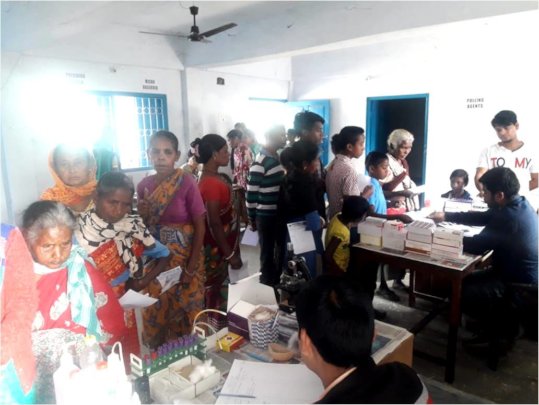 The robust health team of Sabuj Sangha continued their consistent services through outreach camps to the extremely hard to reach communities at the forest infested closed tea garden areas of Alipurduar district located at the foothills of Himalayas in West Bengal, India. We are deeply indebted to National Health Mission (NHM), Health Department- Govt. of West Bengal to retain the consortium in these noble essential efforts. The outreach health camps facilitate free doctor's consultation, medication, counseling, pathological diagnostic cares, reference for further treatments and. arrangement to send critical cases to better health institutions, reference and arrangements for sending referral cases to the govt. hospitals.etc. services.
The hard to reach now closed 6 closed tea garden areas are:
Dhumsipara Tea Garden
Hantapara Tea Garden
Garganda Tea Garden
Birpara Tea Garden
Dimdima Tea Garden and
Tulsipara Tea Garden
We continue to organize multiple medical camps at each of the locations so that all patients can be taken into complete health care observation and required follow ups.
Cold, Fever, Gynaecological Problems, Hypertension, Anaemia etc. are the commonly seen health issues in these areas. Ailing people from the remotest corners of these areas are thus availing these services in their closest proximity.
Special care services of pregnant mothers through different kinds of tests, like-HIV, Haemoglobin, Blood group etc. and providing medicines following the doctor's advices continued to be catered. Health issues related to increasing age and/or adolescence are also treated.
During January, 2020 we organized 27 such Medical Camps and served 2434 Patients by experienced Doctors. Out of which there are 59 cases of reproductive health. Around 370 Diagnostic tests were made in the month of January, 2020. 64 Patients are sent to Govt. Hospitals as referral cases which cannot be addressed in the Camps.
We are greatly indebted to those who continued to support us in this noble initiative to reach out and serve the earlier unreached people.
We hope that this support would be continued for reaching out more un-reached people who are still deprived of the basic services of Health required essentially.
Please keep on communicating all your friends and acquaintance for extending their support and join us in the initiative which needed to be continued for the most misfortune ailing people in remote Alipurduar, West Bengal, India.