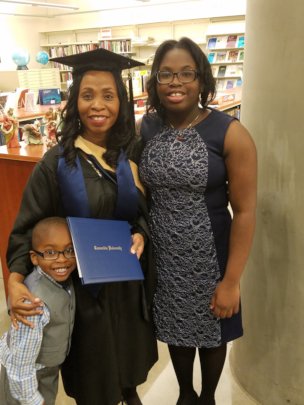 On December 9th, Natacha graduated with her MBA from Concordia University in Portland, Oregon. She will now continue her work with the BonZeb board and serve as operations manager for BonZeb in Haiti.
Edris is the next candidate for the MAT program at Concordia and is excitedly preparing to start his program in August.
We also meet with 9 other candidates, the most we have ever had, for the MBA and MAT programs. With only two full-tuition scholarships available at this time we have a difficult task of selecting one more student for next year. We also need to raise the $15,000 to aid in room and board, books, immunizations, insurance, etc.
During our recent trip to Haiti we were able to meet with the provincial for the Salesians, who operate schools, boys and girls clubs, oratories, and guest centers around the island. We were also able to visit their schools in Cap Haitien and Gonavies. In Cap Haitien they have a technology school where the director believes his students can build our kilns. This would be a wonderful development for BonZeb as we have been looking for somewhere in Haiti to build them. This could potentially cut the cost to our partners in half. Their school in Gonavies is also open to partnering with us. This school in a mechanical school teaching engine repair, drafting, sewing, computers and agronomy. They are in need of tools for the students and assistance in tuition, which is $250 per year. We would like to offer them 4 scholarships is the funds come in.
Along the bumpy road on which this trip took us we also meet with the Director Generals on the University of Notre Dame Haiti in Hinche (Nursing and Bioscience), Cap Hatien (Management and Agronomy) and Gonavies (Civil Engineering and Agriculture), all of who want to partner with BonZeb and would like to have students intern with us in Benico. Their is even talk about creating a curriculum for courses taught by our team that will qualify for credit at the perspective schools.
This means the need to continue to build on the land we purchased last year. During this trip we began and completed the building of the kiln platform and site for our storage container. These items should be on site in the next few weeks. Once again we need funds to build our office and guest house so that we can take the next steps in our new found partners and UNDH and the Salesians.
We keep moving forward step by step and appreiciate your support.
Thank you.