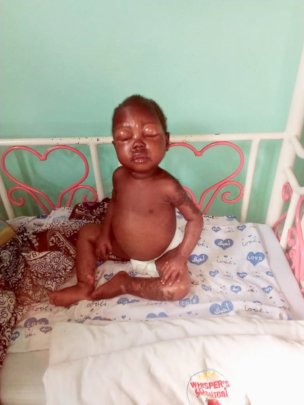 In the past four years, Whisper's Magical Children's Hospital treated 42 malnourished children. Most of these children are brought in by their grandmothers and teenage mothers. These children lack enough food to eat because of the poverty in their families.
Most of our patients are abandoned to their grandmothers who are too old to work inorder to earn a meal to take them through the day. They are left to starve and become so wasted. There are several severely malnourished children who die immediately after arrival to the Hospital whereas others die even before reaching the Hospital. This is because of lack of transport costs to bring the child to the Hospital.
We have the outreach team who travel to different villages with hope of rescuing the malnourished children. The major causes of malnutrition in the Eastern region are, child negligence, abandonment and poor feeding. The children are put on nutritional rehabilitation for a period of around 3 weeks depending on the type of malnutrition.
Whisper's Magical Hospital empowers the families of the malnourished children before they are discharged. Although most times the Hospital budget doesn't favour the empowerment project. https://www.globalgiving.org/microprojects/whispers-empowerment-project/
We thank all our donors for the generous support towards our malnutrition project.