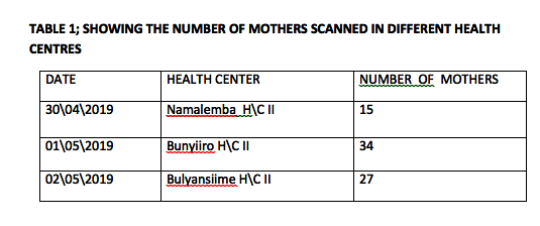 OBSTETRIC ULTRASONOGRAPHY FIELD REPORT FOR 30THAPRIL, 01STAND 2nd MAY, 2019
For centuries, Non Governmental Organizations operating in Uganda had not realized the significance of community obstetric U\S scans. Most of the charity organizations had not been targeting mothers in urban areas who can not even afford to pay or access ultra sound services.
Many mothers in rural areas have ended up losing their lives during delivery since they cannot access or afford to pay for diagnostic services during pregnancy.
From the above back ground, Whispers Magical Children and Maternity Hospital has been documented as the first charity organization to provide free obstetric U\S scans to mothers in the rural areas in order to reduce abortions and maternal complications during delivery which may result into maternal deaths.
The field team on 30th\04\2019, 01st\05\2019 and 02rd\05\2019 visited Namalemba H\C II, Bunyiiro H\C II and Bulyansiime H\C II respectively.
The first two Health Centers are located in Iganga district and the last one in Bugweri district. These districts are found in eastern Uganda i.e great Busoga region.
These health centers are located deep in villages with high number of mothers attending antenatal services.
They lack diagnostic services and even they have limited number of staffs.
We found many mothers waiting for the services however we were not in position to work on them all since we were limited by the battery of the machine as it can work on 10 mothers only.
All the scanned mothers had never accessed obstetric U\S scans before.
TABLE 1; SHOWING THE NUMBER OF MOTHERS SCANNED IN DIFFERENT HEALTH CENTRES
DATE
HEALTH CENTER & Number of Mothers
30\04\2019
Namalemba H\C II
15
01\05\2019
Bunyiiro H\C II
34
02\05\2019
Bulyansiime H\C II
27
From the table above, a total of 76 pregnant mothers were scanned.
FIGURE 1; A PIE CHART SHOWING SCANNED MOTHERS IN SPECIFIC TRIMESTERS
From the chart above 8% of the scanned mothers were in the first trimester, 44% in the second trimester and 48% in the third trimester.
Out of the two mothers in Bulyansiime H\C II with low lying placenta , one was noted with a partial placental praevia.
This mother was at 18 weeks of gestation, with no history of PV bleeding. She was educated on the dangers of placenta praevia like PV bleeding during pregnancy (APH), failure to have a normal delivery and others.
The midwife at the facility was advised to have a close follow up on the mother to prevent negative out comes. Rescan will be done in the third trimester to confirm the final position of the placenta in relation to the internal OS.
Challenges
The field team needs a mid wife for recording the findings in order to reduce on task given to the radiographer as he scans as well as writing reports.
We always reach Health centres late due to delayed departures from whispers since the accounts department delays to clear the team with field facilitation funds
Field uniforms are not enough
The phone screen is small for viewing

images
Health centers lack electricity to charge the batteries
Recommendations
Let the field facilitation money be provided a day before the activity
More field uniforms should be provided (3 T –SHIRTS)
An I pad should be provided to have a large screen for viewing
Power banks should be provided to charge the equipments.
Expectations
Complications during delivery are to be easily managed since anomalies are diagnosed

earlier in mothers and follow ups made by medical professionals
Mothers in rural areas are to save the little money they have as the services are free of charge.
Learnt lessons
pregnant mothers

in rural areas reach

delivery

periods without any scan done on them
mothers are primitive

about Obstetric U\S scan
Mothers are highly interested in knowing the genders of their babies
Conclusion
Field team managed to visit three rural health centres during its second week of providing free scans to pregnant mothers
A total number of 76 pregnant mothers were

scanned
8% of the scanned mothers were in the first trimester, 44% in the second trimester and 48% in the third trimester
Prepared by
Wabwire Samuel

(radiographer)
Ntambula Harri-Sam (social worker)
3. Laaki David (social worker)