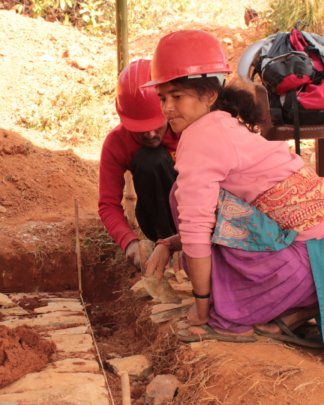 Initial situation
The two devastating earthquakes that struck Nepal on 25th April 2015 (magnitude 7.8 on Richter scale) and on 12th May 2015 (magnitude 7.3 on Richter scale), as well as a series of strong aftershocks continuing for over a month have caused severe damage and human loss. Almost eight million people, almost one third of Nepal's population, have been impacted by these tragic events. Overall, 8.898 people have been confirmed dead, 22.309 have been injured. More than 500,000 private houses, 2,600 public buildings as well as 30,000 educational and class rooms were destroyed.
31 of the country's 75 districts have been affected out of which 14 were severely hit. District Sindhupalchowk, in which Caritas Austria implemented a majority of its earthquake-related projects, is considered as one of the most severely hit districts. In total 1.4 million people were in need of urgent support, additional 1.6 million people were in need of food aid.


Emergency aid
After the severe earthquakes and aftershocks the emergency aid of Caritas Austria and the Caritas network on-site ran at full capacity to support the victims: 10,000 hygiene kits, 2,000 tarpaulins, 16,700 water purification tablets as well as 40,000 pieces of soap were distributed. During the first emergency relief phase – the first weeks and months after the earthquakes – Caritas Austria reached and supported up to 43,000 people with food, shelter materials, hygiene kits and medicines.
Since monsoon season approached a high priority was to provide safe shelter for those who lost their homes as a result of the earthquakes. In cooperation with Caritas Germany and with funds from the Austrian-wide donation campaign "Nachbar in Not" (neighbor in need) Caritas Austria bought and distributed 1,000 tents which among other things were used as school-tents.
In cooperation with the local organization PHASE and Caritas Nepal we also provided bundles of corrugated metal sheets forevery household in Hagam, Fulpingdanda, Kadambas, and Jalbire. This was an important support for the victims and ensured the preliminary reconstruction of those houses and buildings damaged or destroyed by the earthquake. More than 4,200 households could be aided in this way. In addition nearly 5,500 households in those areas were provided with shelter kits consisting of blankets, sleeping mats and WASH-kits (water, sanitation, and hygiene).
During winter Caritas Austria and its partners on-site distributed additional CGI-sheets, solar lights and much needed warm blankets to more than 470 households in Tauthali, Sindhupalchowk.


Long-term support
After the emergency aid the international Caritas network and all its partners are implementing much needed long-term measures including livelihood rehabilitation and support in the reconstruction of the many destroyed private houses, public and school buildings. This happens with strong involvement of the local community. Together with our partners on-site we are training the local people in rebuilding houses and class rooms in an earthquake-proof manner. This doesn't only give them valuable skill sets for their future but also gives them the opportunity to participate in cash-for-work programs and gain money for their families.
In our aim to rehabilitate the livelihood of the people affected by the earthquake Caritas is supporting them also at the agricultural sector, providing seeds and animal feed. This support will help people to regain more independence and to be able to take care of their families' needs.
Caritas Austria is continuing its cooperation with its local partners in Nepal for the Nepal Earthquake Response program. After the closure of the emergency response phase, the major focus of our work is to enable the communities to rebuild their lost assets and livelihoods. Still NGOs operating in Nepal are facing multiple challenges in doing their work and support those who need help.
We are engaged in capacity building of the communities in shelter reconstruction. As initial part of this process, our partners have developed manuals, education materials and ten earthquake resistant techniques, which are used for orienting communities on the shelter reconstruction.
In cooperation with its partner PHASE Caritas Austria has initiated the reconstruction of the public school in the Hagam area of Sindhupalchowk District. We are in the process of developing the master plan and designs for further approvals from the Government. Earthquake has affected the livelihood of the communities in a large manner and we are in the process of setting up livelihood programs with two of our local partners in Gorkha and Sindhupalchowk. In response to newly emerging immediate needs we are also supporting the people affected by the recent floods and landslides in various parts of Nepal.
Links: