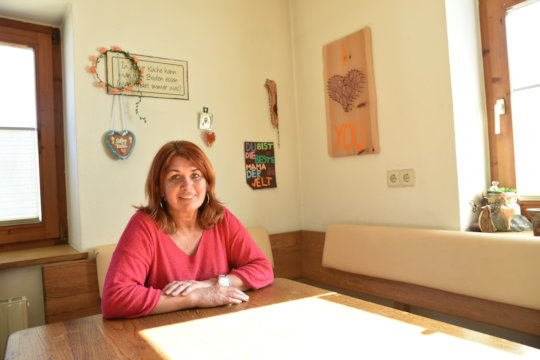 "Things have never been as bad for me as they are now"
When Austria came to a sudden standstill in March 2020, many people in the country found themselves in emergency situations. Manuela, a single mother from Salzburg, was also desperate - until she turned to Caritas.
Manuela had been working throughout her life – first as a hairdresser and then in tourism for many years. Before the first lockdown, the single mother of a daughter had two part-time jobs – as a waitress in a guesthouse in the morning, and in a ski lodge in the evening. She was making a good living and had no financial worries. The lockdown, however, changed everything. The guesthouse and the ski lodge had to close, and Manuela lost both of her jobs from one day to the next.
"Things have never been as bad for me as they are now. I've been unemployed since the end of August 2020, and meanwhile I'm receiving emergency assistance. Not only is my salary missing, but of course also the tips, which make up a large part of my earnings. The alimony for my daughter comes in only irregularly. It's demoralizing and stressful. I managed to pay the fixed costs, but then – in the dead of winter – my heating pump broke down and I just couldn't afford to have it repaired."
"This was the best day I've had in a long time"
The repair was not affordable with less than 1,000 euros a month that Manuela currently has at her disposal for herself and her daughter. So Manuela sought help from Caritas Salzburg: "This was the best day I've had in a long time. I received two food packages from Caritas and some financial support on top of that. That was such a relief. I was able to get my heating fixed with the money."
Similar to so many people, Manuela would have never imagined getting into this kind of situation and having to ask for help: "I would never have believed that something like this could happen to me. My father supports me as much as he can. At one point, however, that was no longer possible. The best advice I can give to anyone is to overcome the shame and accept help."
Today, Manuela looks forward to the future with cautious optimism. She has a promise for a job as soon as the restaurant can reopen: "I am a positive person, a fighter. But I hope this will be over soon."
Corona emergency aid has prevented the worst for many
When it was announced in March 2020 that Austria would be "shut down" and only system-maintaining infrastructure would remain open, it quickly became clear to Caritas that we would have to greatly expand our assistance services for people in Austria - even for those who would never have expected to need Caritas assistance themselves:
Caritas set up the Corona emergency help hotline at the very beginning of the pandemic. People who are in acute financial crises and do not know how to pay the rent or make their next grocery purchase can call +43 05/1776-300 for rapid and unbureaucratic help and advice.
In Vienna, for example, additional emergency shelters for homeless people were set up, some of which were also open during the day during the lockdown.
Numerous emergency food distributions and home deliveries were organized. Emergency financial assistance for rents, electricity and heating costs was expanded.
In Upper Austria, around 1,260 adults and children received help in the form of cash and food assistance.
In Salzburg, 4,000 food parcels were distributed and 7,500 overnight stays in emergency sleeping facilities were made possible.
Even if the health crisis caused by Corona seems to be gradually over, the social and financial effects of the Corona crisis will continue to burden people for a long time - especially the most vulnerable in our society.
For those people who turn to Caritas' 53 social counseling centers, it's often about the most basic necessities: food, energy and rent costs. It's about being able to cope with childcare costs or being safe after a separation or domestic violence. It's about not looking away now, but continuing to stick together.
Thank you for your ongoing support for people in need in these challenging times.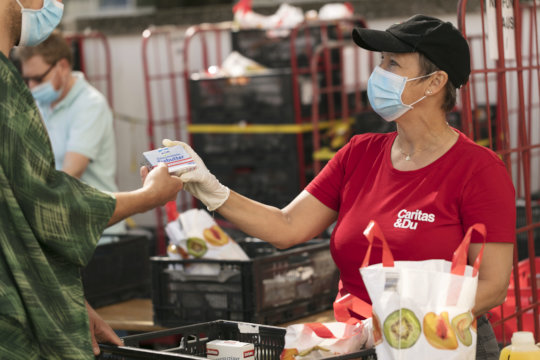 Links: