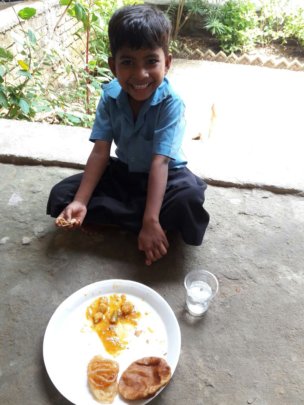 This story is based on verbal by Soni
I am soni. I am from the village of Bataspur which is cross the river Mohane. I have two brothers and two sisters and my father is rickshaw puller and mother work as a labour with construction mistry and they earn very little. When we have big festival some time we get fried food I mean twice in a year but daily my mother cook food very early morning and she goes for work and she cooks only rice and we all eat rice and some time Choka but when we have festival like holi than we have puri and sabji which I Like very most.
But When I join this school it is really pleasure for me and I got my favourit food frequently in the school and it includes sweet also with Puri, vegetable and salad and papadum. I like and feel that how luck I am because of this school I really can get this type of food . so thank you.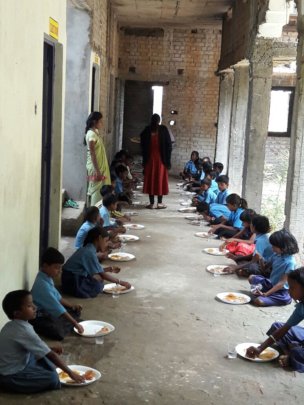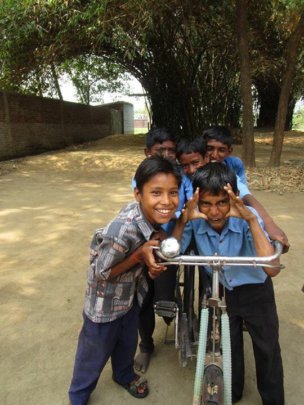 Hi,
This is the story Raju told Us and I am posting by his full consent-
I am Raju and I am 10 years old study in class 5 at Gyan Jyoty school. I am actually studying here since 3 years and my parents I mean mother and father both work as a labor in house construction. I don't ask how much they are earning but our life is difficult in home. I have 2 brothers and 1 sister and I am the elder . My house is mud house and I come to school after crossing the river which has very few water. We don't have bicycle in my family because once I asked my father to buy he told it is very expensive so I have never ever touched the bicycle but in my school one of my teacher come by bicycle and some time I ask my teacher can I ride this but because of my age I think he does not allow me but this time My teacher permit me to ride in front of empty space of my school and I really ride this bicycle with support of my friends and some was holding bicycle from back and it was unforgotten moment for me I really enjoy and all it happen because I am in school now if I was not in the school than surely I could not touch the bicycle . So thank you sir for bringing me in this school for study.
Pawan Kumar
School principal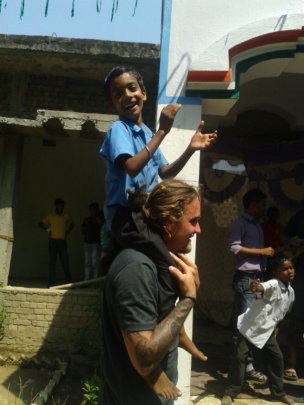 I am Sonu study in class 4 in Gyan Jyoty School. I really love to share my experience on this Holi festival which was celebrated in my school when some of visitor from USA arrive in our school to celebrate Holi. I really enjoy very much and all its happed because of I am in the school. Before our presence in our school I have never celebrate this festival I just wonder when I saw the kids are playing and singing and making friendship with western people but now my dream really come true this year and I celebrate this festival with foreign people. I really share my experience with my friends also and they also want to join the school those who is not in the school now and its really inspirable.
So THANK YOU FOR ALL YOUR EFFORT.
WARNING: Javascript is currently disabled or is not available in your browser. GlobalGiving makes extensive use of Javascript and will not function properly with Javascript disabled.
Please enable Javascript
and refresh this page.