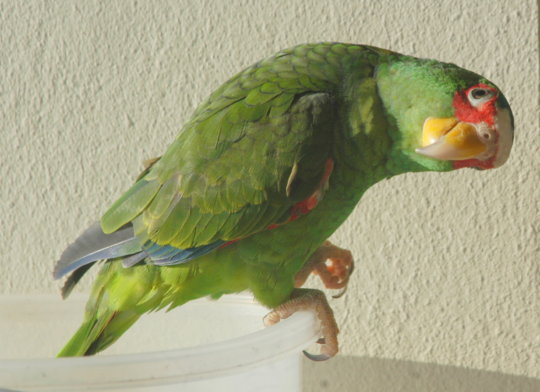 This project report is a submission to GlobalGiving's 2017 Fail Forward Contest, where organizations are asked to share a story of when they tried something new that didn't go as planned and how they learned from it. Enjoy!
We first started rehabilitating former captive parrots for release in 2004. To be perfectly honest, we didn't really know what we were doing. We asked several parrot experts what the protocols and methodology were, and the general reply was 'we have no idea but if you ever find out, please let us know'. Not terribly helpful…
The pivitol moment in BBR's history was without doubt the death of Connie, the white-front parrot. She was liberated from the tiniest cage you have ever seen. I couldn't even get my hand through the door. She was being fed by sprinkling sunflower seeds through the bars, and she had a tiny child's play-set coffee cup as a water dish, which she preferred to use as a hat most of the time. She was the quietest, most adorable, placid bird I had ever come across.
When Connie came along, we were still fumbling at rehab: we had released 6 or 7 birds which we now know was more by luck than judgement. They would come into the house and night to sleep, and play out in the trees by day. Most had clipped wings, which take a full year to grow back in. We became very proficient at climbing ladders and persuading parrots to jump!
There's a dangerous few months when the bird has enough flight feathers to get into trouble, but not enough to get out of trouble. It was during that half-way period that Connie took off toward the forest. We had a general idea of where she would have landed, but being a quiet bird, we called and called but she didn't respond. I had people looking for her for days. We finally found a pile of feathers perhaps quarter of a mile away. It was then and there we decided if we were going to do this, if we were going to do right by these birds, if we were going to succeed in helping them, then we had to do it right.
We started building large aviaries and in true 'build it and they will come' fashion, more and more birds were being brought to the centre. The aviaries created a safe and secure jungle environment while feathers grew and the birds learned flock interaction and critical survival skills with minimal human intervention. Our protocols developed rapidly and we became efficient and proficient at the soft-release of our birds.
Today we have rehabbed and released more than 500 former captive parrots and now people look to BBR for guidance. I often think of Connie and wonder where we would be now if it wasn't for her. She was without doubt our most significant 'fail forward' moment. Fly Free, little soul.
Links: