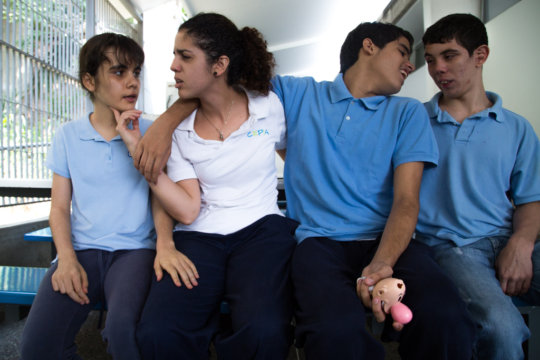 Dear Donor,
2016 was a year with significant challenges yet tremendous progress towards our aspirations. In 2017 we are determined to accomplish even more.
We truly hope you continue joining us in our efforts. Your contributions have made it possible for us to maintain and improve the education we provide. They have also helped our students receive the education they need.
The deteriorating economic and social situation in Venezuela are threatening the wellbeing of all. The lack and poor quality of basic services has had a tremendous impact on the quality of life. As others in the country, the members of our community are also feeling the effects of hyperinflation. As well as the severe scarcity of food and medicines, and the lack of personal and economic security.
However, we pride ourselves on being a community where parents and students feel assured that they are receiving top-tier education in spite of the complications around them. All the while, our commitment to the families we serve stays intact. We are capitalizing on this, taking innovative actions and, a creative approach to continue providing the guidance our students deserve and need. In particular:
Continued service delivery at the highest quality standards. Currently we are providing high quality education to 102 students and have served during the first semester of the school year over 300 families. All of our programs and services continue running with the quality standards our families deserve and expect. In fact, our most recent parent survey shows a 98% average satisfaction with the quality and impact of our education. We have re-organized 8 of our classrooms to include one additional student in each. We are in the process of improving our transitional curriculum for our adolescent students. We continue our coaching program for management leadership, and are reviewing our assessment services to allow access to families beyond the city of Caracas.
Increased access to financial aid. As of February, all our students in our educational program are receiving partial financial support and 77% of them are receiving additional scholarship support. Furthermore, all the requests made this year for additional need based financial support were addressed. We have also provided financial support for 15% of our diagnosis and evaluation services.
Increased use of technology for more effective teacher training. All our staff participated in the digital, virtual teaching of PECS Level 1, and its application in behavior. Teaching virtually made the course an affordable and viable experience. This powerful communication tool increased the knowledge and awareness of those teaching our students, it is a key component of our educational framework.
Increased well-being our staff. The program "píldoras de bienestar" to address the wellbeing of our staff continues, and satisfaction levels among our staff are at an all-time high. In fact, in our most recent survey 98% of our staff consider us an exemplary place to have employment, and 91% feels there are opportunities for significant professional development. Based on the principles of positive psychology, the program includes activities, and resources that do answer the most pressing needs of our staff from stress management to their entertainment needs.
We expect 2017 to be the our most challenging year to date. Our children, teachers and management are everyday giving their best to maintain and improve the education we provide, and our students continue to progress. You remain their best hope for our programs to continue delivering the impact we aspire to make. Let's continue making a difference.
THANK YOU for being part of Autismo en Voz Alta!