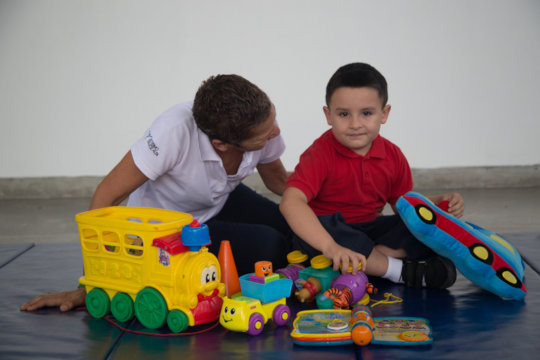 I can't find any food, I don't have electricity, there's no public transportation, I can't find any medicines, my salary isn't sufficient….I can't find…I don't have. Those are the topics of conversation in our homes, among friends, among colleagues.
For the truth is that TODAY in Venezuela the humanitarian crisis and the economic collapse have taken over our conversations, and dictate our decisions individually, and collectively.
So what decision have we made in Autismo en Voz Alta? We've decided to continue to work so that the knowledge and expertise we have amassed during these last twelve years will go on serving the autism community in our country. Every time a child with autism learns a skill he becomes more autonomous, and his family and the community benefit from it; that is our contribution to the country.
We are very grateful and proud to report that our 107 students are performing according to their needs and developmental objectives. Our 60 direct employees and our volunteers are very satisfied with the organizational environment, the parents are delighted with their children's progress, and we continue to provide a monthly average of 25 assesments, and 100 hours of therapy. We are operating at full capacity and there are no vacancies.
This is a true reflection of our determination to continue creating opportunities, building a future, and nurturing the hopes and wishes of each child, adolescent and family that comes knocking at our doors.
Thus, we continue to write this story of love, resilience and determination which came to life on April 2005, sitting around a family meal, when Isabella, my sister, told us with tears in her eyes that Cristi, her beautiful daughter with autism needed special education not available in the country.
All of us at Autismo en Voz Alta are very grateful for the opportunity we've had of being part of this amazing story. In our classrooms you can breathe love, commitment and respect. Our community transmits and lives with optimism; whenever an obstacle arises, it transforms it in an opportunity worth pursuing.
You, our donors, sponsors and friends have made Autismo en Voz Alta possible. You are responsible for 12 years of GREAT IMPACT, 12 years of ACHIEVEMENTS building, creating, innovating, inspiring and multiplying with a 45% increase in the number of families we assist today.
Your financial support, your presence at our events, your willingness to spread the word and to get to know us, is what allows us to continue ahead.
We invite you to continue being part of Autismo en Voz Alta, a shining example that only in unison, contributing to the extent of our possibilities and abilities, is it possible to face and address any challenge that may arise.
THANK YOU for trusting us, THANK YOU for investing in our future.