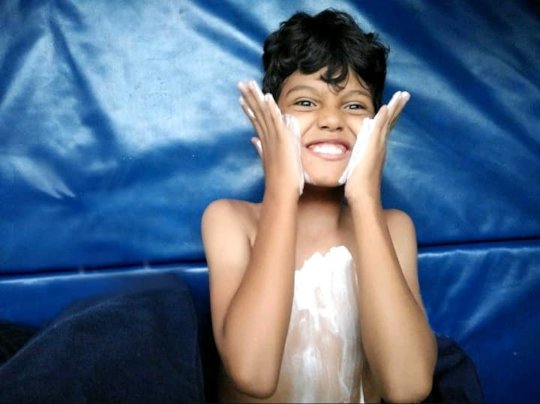 Sebastian's happy face, as captured by his teacher, Fransheska Freites, reflects our enthusiasm and excitement as we start a new school year and receive our students and families.
Our families' commitment and courage in providing their children with the education they deserve and need, despite the many hardships, inspires us. Their trust in our program and services motivates us. In the midst of Venezuela's fourth consecutive year of hyperflation, and the tremendous negative impact it has on day-to-day living conditions, this is truly humbling and remarkable.
Thanks to you, Autismo en Voz Alta have been able to be of assistance. Today, 84% of our families receive support in ranges of 26% to 95% of the total cost, and we support 11% of our autism assessment services.
With appropiate on-going training programs for our personnel, teaching dynamics, evaluation systems, and intervention protocols, we remain true to our purpose: to provide need-blind, outstanding education for children and teeenagers with autism in Venezuela.
We are committed to "keep going forward", and dedicated to our children's skills development and the satisfaction of their families.
Your continuous support makes it possible. THANK YOU.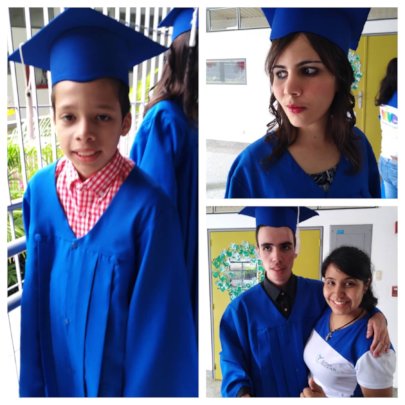 Today we feel blessed and grateful as we celebrate the accomplishments and, the development of our graduating class.
Another school year has successfully finished. Thanks to you, it has been possible. Thanks to you, our community has had the means to face and address the many challenges that have arisen as a result of the current economic and humanitarian crisis in Venezuela.
Thank you for trusting us and continuously giving the support we need.
Below Miguel's graduation speech. There are no better words to express his and our gratitude.
Hoy celebro el fin de una etapa especial en mi vida, me despido de grandes personas de quienes disfruté su compañía durante este año escolar, se que los recordaré, y en mi mente estarán por mucho tiempo, por eso quiero agradecer:
A Dios por darme esta maravillosa experiencia de conocerlos y ponerlos en mi camino.
A mis padres por impulsarme y darme su apoyo a pesar de las dificultades económicas y familiares.
A mis maestras por brindarme sus conocimientos y prepararme académicamente a esta nueva experiencia que se me aproxima.
A mis compañeros por brindarme muchos momentos divertidos en los que compartimos, jugamos y peleamos durante este año, se que los recordaré a cada uno de ustedes.
A esta Maravillosa Institución por abrirme sus puertas y darle a mi vida una historia diferente, llena de muchos aprendizajes que se mantendrán en mi corazón y en mi vida para siempre.
Dios les bendiga a todos, los quiero y extrañaré mucho….
TRANSLATION: Today I celebrate the end of a special period of my life. I say goodbye to unique people, with whom I shared this school year. I know I will remember them, and they will remain in my mind for a long time. This is why I want to thank:
God for giving me this marvelous experience of meeting you and putting you in my path.
My teachers for giving me knowledge and prepare me academically for my new upcoming experience.
My teammates for giving me lots of fun moments where we shared, played and fought. I know I will remember each of you.
This wonderful institution for opening the doors and giving my life a different story, full of learnings that will remain forever in my life and heart.
God bless you all, I love you and will miss you a lot.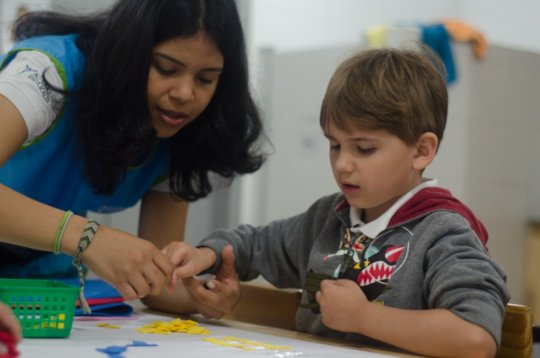 When a child with autism encounters changes in his daily routine, his behavior changes dramatically and family dynamics break down. El Avila on fire sending off a smell different from the customary one; electricity coming on and off; no running water; frequent siren sounds; nervous people everywhere, among other things are barriers they must overcome and control in order to continue shining in their surroundings.
On April 4th 2019, Human Rights Watch reported: "the combination of severe medicine and food shortages within Venezuela, together with the spread of disease across the country's borders, amounts to a complex humanitarian emergency that requires a full-scale response by the United Nations secretary-general". Just think how much support our families need to meet their children's special needs.
Maintaining the essential conditions that allow our children to recover and keep their balance is KEY in such highly uncertain conditions. And we the parents, teachers, and volunteers at Autismo en Voz Alta understand that the vastly structured nature of our program, and the skills we teach, do have a major positive impact in the wellbeing of both them and their families.
We at Autismo en Voz Alta are committed to continue operating our programs and to provide our services. We have developed and implemented back up plans, addressed transportation challenges, and as a team are ready to be there every day to support and educate our kids. You, our donors, make it possible.
No words can express our gratitude on behalf of our community. THANK YOU
WARNING: Javascript is currently disabled or is not available in your browser. GlobalGiving makes extensive use of Javascript and will not function properly with Javascript disabled.
Please enable Javascript
and refresh this page.