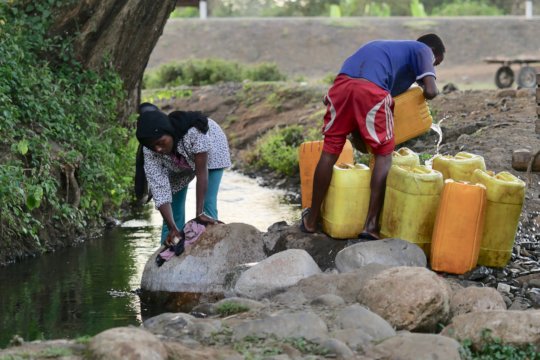 The people of Chano Dorga are getting an unexpected surprise! For generations, they have endured having to walk hours each day to access water, but soon that journey will end. HOPE had been planning to start work in Chano Dorga in 2019, but recent changes in the timescale of other HOPE Water and Sanitation Projects in Ethiopia have meant that this project has been brought forward to start this month, in October 2018. Finally, their wait is nearly over!!
As a result, our HOPE partners in Canada have met the initial costs for the first quarter (£239,223), when all of the materials will be purchased. HOPE UK has, therefore, committed to raise the necessary funds for the remaining portion of the project (approx £118,799 with latest currency exchange rates). This is a very large sum for a small charity to raise, but as HOPE's projects have moved into increasingly challenging locations, the costs for providing water and sanitation have correspondingly increased. For example, for this project, the nearest spring is nearly 15km away, driving up the costs of materials and time required.
The construction of this water system will take six months, while most capacity building (the health education and Self Help Group training, teaching basic business skills to 400 women) will continue for two years, as per the plan developed in conjunction with the local government.
As one of our core values is sustainability, HOPE has now met with the community at the project launch and has reiterated what is expected of them. It is essential that each community that HOPE agrees to work with provides much of the labour required to build the water system and dig the pipeline for the delivery of clean water, but they also contribute needed local materials to the project (timber, sand, gravel, etc.). In addition, HOPE provides training and support to the locally elected Water Users Association (of which 50% are women) who manage the water system and to the local Water Caretakers (also 50% women) who maintain the system. HOPE sees it asvitally important to provide thorough training to leaders from amongst the project's beneficiaries, so that they can maintain and manage the system using their own knowledge and skills before HOPE moves on to work with another neighbouring community.
Therefore, we are grateful for your support of our work to bring access to clean water to this community of 3,942 people. Obviously, we are working hard to meet our fundraising target by running fundraising events, applying to Trusts and Foundations and discussing the needs to Chano Dorga with our long-time supporters. We hope you will also consider giving to this project again and sharing our stories of lives changed with access to clean water to your friends, family and colleagues.
Thank you again.