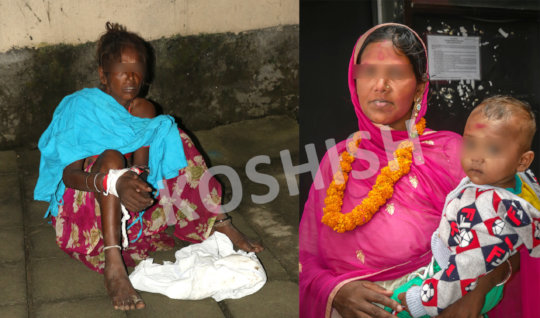 With the support of the funds raised through Globalgiving, KOSHISH has been able to help 13 women living with mental health issues during June - August, 2019.
KOSHISH is providing emergency mental health and psychosocial support to those women who are living with mental health issues and are prone to violence. Those women were brought to KOSHISH's Transit Home to provide specialized mental health treatment and psychological support. KOSHISH's Social Workers visited with the family members of the beneficiaries and also provided them psychoeducation for creating supportive environment to live them with dignity after their recovery and reintegration.
So far as this campaign started, KOSHISH has been able to help 57 women with mental health issues. There are many women who are locked, chained and abandoned in the streets due to having mental health problem and faced violence, and they are subjected to humanrights violation. KOSHISH would like to appeal you to join your hands to support for the cause.
Success Story of a woman survived with mental health issues and violence
31 years old Nilima (pseudonym) was found on the street of Nawalparasi with an infant attached with umbilical cord on her lap. She was rescued by police who brought her in the nearby hospital and treated her accordingly. The doctors found her with a severe mental health problem and referred to the KOSHISH's rehabilitation services for the treatment. During the time of rehabilitation on September 21, 2018, she showed violent and aggressive behaviors. She didn't care about her son and if given something to eat then she would throw food at the baby. Because of these behaviors, the baby was reared in the childcare unit of Prithvi Chandra Hospital for the time being.
After getting the therapeutical and counseling services in KOSHISH, her mental health condition improved. During conversations, it was found that she lived in Bangladesh and had no clue of how she came to Nepal but she knew that she has a baby boy. She has 7 daughters back home. Her relation with her husband was not good as he abused her for not having a son.
With the information she provided, KOSHISH staffs tried to search for the address given by her on the internet and found that to be true. KOSHISH coordinate with Bangladesh embassy for locating her address in Bangladesh and responded positively. After rehabilitation services, she was reunited with her son and she lived in an organization called Manab Sewa Ashram with her son. And during the contact with the family members on Bangladesh, it was found that her husband had passed away and her daughters were staying on her maternal home with her mother. With an effort from KOSHISH and the Bangladesh embassy, she was able to return back at her home in Bangladesh on July 22, 2019. And while returning back she appreciated KOSHISH for the support and said 'Bhalobasey' (thank you in Bengali) to one of staff of KOSHISH while meeting her at the airport. The embassy also appreciated the efforts of KOSHISH in helping Nilima despite being from across the border.
Links: