COVID-19 pandemic has continuous and adverse effect in the mental well-being of general people. The cases of COVID-19 are increasing in Nepal. While the preventive vaccine and treatment option are in development process, the COVID-19 has further led to mental health conditions such as fear, anxiety, panic-attacks, OCD, suicidal deaths, and a general effect in overall well-being.
KOSHISH has been providing continuous counseling services and psychosocial support through toll free and online media.So far ( August-November, 2020), KOSHISH have been able to provide counseling services and psychosocial support to 52 persons. The beneficiaries were satisfied and have provided positive feedback towards the services that they received.
One of the beneficiaries shared, "I was scared & hopeless and was not able to reach any psychosocial support but the tele-counseling services have been really helpful for dealing with my problems."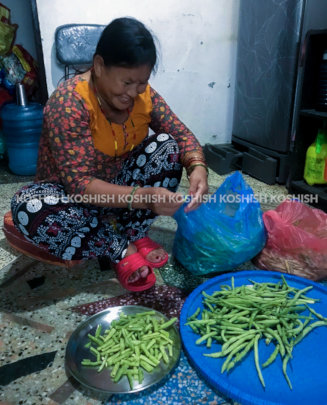 Introduction
This campaign has been initiated by KOSHISH with the aim to provide Mental Health and Psycho-social Support (MHPSS) to the women and girls who experienced violence and developed mental health and psychosocial issues (MHPSI). This campaign supports the women experiencing MHPSI to lead a dignified and quality life and being included in the community on an equal basis as others.
KOSHISH has been providing immediate support to the women with severe MHPSI after conducting Polymerase Chain Reaction (PCR) test. In three months period (July-September), KOSHISH has been able to provide psychosocial support to 10 women with mental health and psycho-social issues. Among them, 4 have been reintegrated in their own families and communities. Those women were able to get recovery through your generous support raised via The GlobalGiving.
The outbreak of COVID-19 pandemic has affected the mental health of many people especially women as they are more exposed to violence than the normal scenario and are deprived from the proper mental health treatment. It has been challenging for KOSHISH to provide mental health and psychosocial support to the women in need realizing the risk associated with it to the in-house beneficiaries. There is an immediate requirement of Quarantine house to accommodate the new beneficiaries for 14 days before their intake in the main facilities to reduce the risk of transmission of infection. It has been necessity in the present context and KOSHISH has been exploring fund for the purpose.
Success Story
Healing from wounds in the heart
35 years old Muna (pseudonym) from Ramechhap was brought into Transit Care Center during the Lockdown. She is a survivor of domestic violence. Her husband used to get drunk and torture her physically and mentally. She became unable to cope with the emotional and physical abuse and left her home leaving her two daughters behind. She was five months pregnant by then. She started living on streets without proper food and one day she fell on the road which affected her pregnancy. She was brought for treatment at Dhulikhel Hospital with the assistance of social workers from an organization but by then it was too late to save the child.
The continuous torture and abuse from the early days of marriage and loss of her unborn child impacted her mental health. She needed immediate treatment and was referred to KOSHISH Transit Care Center by the hospital. She was then admitted to KOSHISH Transit Care Center. With the psychiatric consultation and psycho-social support in Transit home, her mental health condition improved. She liked to get engaged in therapeutic activities and even helped staffs in the kitchen. She remembered her two daughters a lot and said, "My heart is getting stronger each day and I will work hard for the sake of my children's future".
The outbreak of COVID-19 and continuous fear of transmission of the disease have affected the psychosocial well-being of all the people. The cases are increasing in Nepal as well. Within a week of the beginning of lockdown, KOSHISH realized the need for psycho-social support during this pandemic situation especially to the persons who are already experiencing mental health conditions.
For that purpose, KOSHISH sought financial support for the establishment of a toll-free number and recruitment of psychologists to provide free Psychological First Aid and Tele-counseling services. KOSHISH was able to receive the project-based funding which aided to run the toll-free number through which the free counseling services have been running smoothly.
So far, 1024 persons have provided mental health and psychosocial support during this COVID-19 pandemic situation.
WARNING: Javascript is currently disabled or is not available in your browser. GlobalGiving makes extensive use of Javascript and will not function properly with Javascript disabled.
Please enable Javascript
and refresh this page.