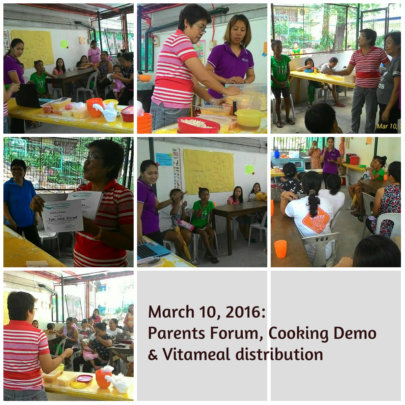 Dear Friends and Partners,
The month of March marked the end of the school year in the Philippines, and #ProjectBaon - a daily feeding program that provides school meals to undernourished students, officially ended its first year of implementation last March 11, 2016. The team is now preparing and raising funds for #ProjectBaon 2016-2017.
To recap, here are just some of the highlights of #ProjectBaon for school year 2015-2016, since we started in November 2015, together, we have helped:
2 schools and 120 undernourished public school students,
We have served a total of 5,233 nutritious school meals by the end of the program,
87% of the beneficiaries, those who regularly attended the program, had a significant improvement in their overall health in terms of -weight, and immune system. There were no recorded absences from school and no recorded sickness while they were enrolled in the program!
Aside from the school-based feeding program, we have also conducted outreach feeding activities in poor communities in the country. The team used these outreach feeding activities to get to know the beneficiaries and their parents, establish relationship, know more about the needs of the community and prepare for a daily feeding program once funding is ready. These outreach activities have helped:
330+ kids
We have served 1,800+ meals
in 5 different communities!
Overall, your generous giving to this project has reached out to 450 Filipino kids and together we have served over 7,000 nutritious meals, in 7 different locations!
For the months of March, April and May 2016, the program implementation team, headed by Nurse Nordeth Semillano and program coordinator Alpha Gallo, conducted several feeding outreach activities to start the screening of new beneficiaries for the coming school year of 2016-2017. Here are some of the highlights:
March 10, 2016: Parents Forum : The team organized a forum with the parents of our beneficiaries at Taytay Elementary School. With almost 3 months of summer vacation and no provision of meals from the #ProjectBaon program, we are concerned that our efforts might go to waste if we don't educate the parents on providing the right meals for their kids.
The team conducted a nutrition seminar for the parents and a cooking demo on how to prepare meals that is nutritious and at the same time their kids will enjoy. We have also provided each parent with enough supply of Vitameal, the meal formula that we use to fortify the rice and ensure that they get the nutrients they need every day.
March 15 – Medical and Dental check-up : The team, together with our partner – Seeing the Dawn Christian Ministry conducted a Medical and Dental check up for all beneficiaries before the summer vacation.
March 24, 2016 –Barangay Tarece, San Carlos City Pangasinan Outreach
Brgy. Tarece is one of the 82 barangays in San Carlos City. It is a poor community where people make a living mostly from planting corn and making baskets called "Kaing" and this is why most of the kids in this community barely eats 3x in a day, at times , only once in a day.
Brgy. Tarece , San Carlos City Pangasinan will be one of our full time Feeding Stations this coming school year and we have so far screened 35 kids who will be enrolled in the program. More kids are lined-up depending on the funds available.
March 25, 2016. – Sta. Cruz Zambales Outreach. The team reached out to 60 kids in Sta. Cruz Zambales where aside from providing meals, the team also interacted with the kids through storytelling, games and singing songs together. We are also hoping to establish a full time feeding station in this area.
April 1, 2016: Baras Rizal Outreach. The team fed 80 kids and provided a bag each of the vitameal formula for each family which is good for 30 days. This community is a relocation site for families who were victims of natural and man-made calamities.
Weekly Feeding Outreach at Pinesville Taytay Rizal : Every Saturday, the team would feed about 40-60 kids in this community. This area is a community with about 1,000 families living mostly in shanties and make-shift houses, most families make a living here as workers in a nearby garments factory and construction site.
We still have more stories to tell, but this report is getting long :) But we really hope that you will all get a picture of the condition of the kids you are helping here in the Philippines through Reach Out and Feed Philippines and through our programs. When you get to know their parents, they are also kind and loving people, wanting the best for their kids, just as any parent would want. The kids, they are in a state of helplessness, we are talking about 4, 5 and 6 year olds not knowing where they will get their next meal.
But thanks to you, they will have a better chance in life and we can all take a stand to re-shape their future! We are all praying to complete the remaining target fund of $30,000 to completely fund all five Feeding stations (or more) this coming school year of 2016-2017. Will you help us reach this goal?
We thank you all so much for trusting us, and we really hope to work long term with you in the fight against hunger and malnutrition in the Philippines.
Thank you again and may God richly bless you and your family!

With gratitude on behalf of the whole team,
Dawn Marie F. Cabigon
Founder, Reach Out and Feed Philippines Inc.