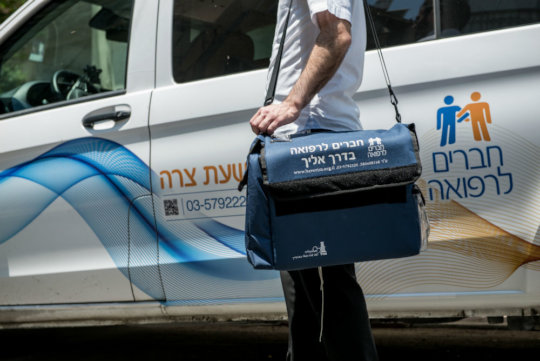 "As head of Social Services for the city of Carmiel, I witness many heart-wrenching stories. My team of social workers are overloaded with cases, each with their unique story.
But we all have 'Haverim' on our speed dials and we make use of their number at least once a week. Haverim send out packages of free medicines regularly, following our recommendations. We send so many members of the community their way: families, new immigrants and solitary elderly that have nobody else. They all can't afford to buy their required medicines: usually because even the basic co-pays and deductibles are too high for them.
We witness again and again how our 'clients' would simply forgo their chronic medicines if Haverim did not step in and take charge."
- Dr. Shula Menahem, Director of Social Services at the Carmiel municipality
As part of Haverim's Free Pharmacy project, we provide hundreds of people in Carmiel with free monthly packages of medicine. In total - over 4,400 people a month receive a free package, and the numbers are only growing.
Every five minutes in average we receive a call for help. And thanks to you - we've managed to help over 85% of these people. Your support helps us fund even more free packages to these needy.
We invite you to view a video of our work here: https://youtu.be/MlOOBcems6c.
We thank you for your support and extend an open invitation to visit our Free Pharmacy whenever you're in the neighbourhood!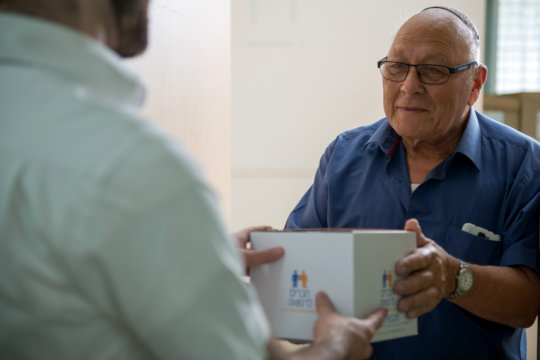 Liora Rosenman is a prize-winning artist. But she always felt that something was missing in her art - until she joined Haverim's Art Rehabilitation workshop.
For several years now, Liora shows up on Wednesdays at the Tel Hashomer Rehabilitation Dept. She helps Haverim's volunteers set up the easels and distribute the paints and water bowls. She then guides the patients to their easels, and helps choose a subject to paint, or a photograph to copy, suggesting techniques for painting the sky, sea foam and more.
Channel 10 interviewed a few patients - see our link.
Liora joins half a dozen loyal volunteers who help shed some light and llend some color to patients who spend months in a painful rehabilitation process.
Soldiers and veterans, youth and elderly. Everyone is welcome to a 'time out' from the daily routine of a hospital ward - to a colorful and artistic respite.
Join us. Your support goes a long way! We constantly need new paints, canvas and easels for the patients.
Thank you.
Links: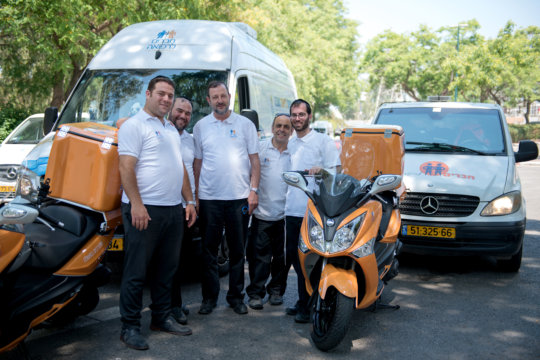 We are proud to announce a record-breaking number of packages of free medicines sent to people in need around Israel!
Every year since our creation, in 2003, we've witnessed a growth in the number of people requesting our aid.
Thanks to your support - we can respond with 'Yes! We have that medicine!' to more and more people in need every year.
This year, over 4500 packages of free medicines were sent out: every month by post, by our Free Pharmacy van and via our growing network of Bike4Meds motorbikes (we have 2 so far). We're consistently working to improve the safe and timely delivery of the medicines and to ensure that everyone recieves the chronic, pain-relieving and life-saving meds they need on time.
We now have over 600 collection points across the country: people and organizations who gather unused medicines. Together with donations from the 28 pharmaceutical companies we've partnered with, we can now answer the growing demand for medicines quicker. The medicines are all checked, one by one, at our offices and either sent out to the patients, or sent to 'green' disposal, so that expired meds no longer contaminate our soil and water.
Did you know? You, or your organization, can visit our Free Pharmacy, or come and volunteer! We need little advance notice: Just contact us (dalit@haverim.org.il) and we'll set this up.
Join us: join our mission to ensure that nobody in Israel lacks medicine because of financial need.


WARNING: Javascript is currently disabled or is not available in your browser. GlobalGiving makes extensive use of Javascript and will not function properly with Javascript disabled.
Please enable Javascript
and refresh this page.