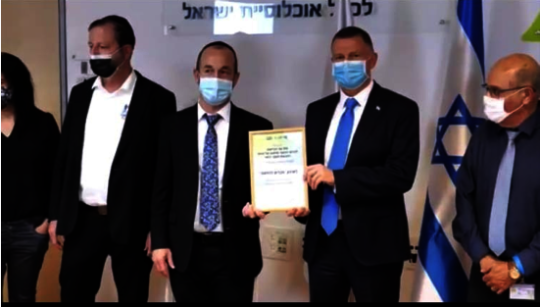 2020 has been the most challenging year we've every experience.
Since the outbreak of the pandemic, Haverim has faced unprecedented challenges.
Our vision, of "Making sure no people in Israel will have to choose between medicine – and food" has never, in our 17 years of existence, been more urgent.
Following an avalanche of requests for medication, from the first lock-down through to the current one (No. 3), we have been called on to dispatch free medication to over 9,000 people a month, compared to 5,000 a month before Covid-19.
We were invited to be part of the Israeli Defense Force home front command center, serving as the 'go to' organization for people who urgently need medicine. We also called upon pharmaceutical companies to supply us with significantly higher quantities of medicines, in order to respond to the sudden rise in demand. This was especially urgent, as our supply of incoming medicines (from SuperPharm for example) greatly decreased due to the lockdown.
In the midst of it all, we managed to fast-track the purchase and tailoring of another Free Medicine van, which was vital in helping us reach and deliver the extra packages of meds.
The pressure and strain on Haverim's resources were enormous and unrelenting.
The inbound call rate was virtually unmanageable. The logistics department was overstretched. The staff worked overtime and we have had to recruit additional pharmacists, as our volunteer pharmacists – all retirees - have been in lock-down in their homes and are still unable to come to work.
After the unimaginably challenging peak, we returned to a 'new normal' situation, where thousands of the newly unemployed now appeal to us for help, and we are still short-staffed as our elderly volunteers remain at home.
We prevailed! And we succeeded in forging on largely thanks to you and to all our supporters worldwide!
Links: