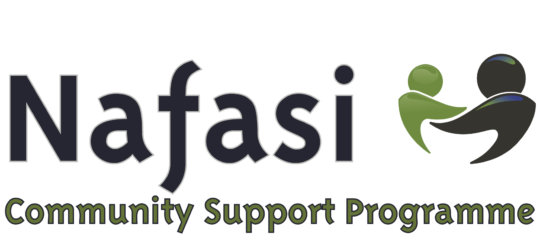 The NSCP is a programme aimed at empowering young mothers with Life skills and knowledge to better their lives and those of their children. It is aimed at creating safe community spaces where girls are respected and can develop skills, friendships and support networks. In this programme the mothers are engaged with peers in weekly mentor led sessions about health and livelihoods.
The mothers are guided by Three Rs; Doing Right things, In Right Places, At the Right Time
The Life Skills Programme is a modular programme with 4 modules;
1) Be Yourself 2) Be Healthy 3) Be Empowered 4) Be Money Saving
In the different modules a wide range of issues are addressed among which include; understanding gender, leadership and future goals, sexual and reproductive health and rights, community resources and making spending decisions.
Here you can see Jackie, manager of the Nafasi Community Support Programme (NSCP), with one of the teenage mothers that the programme supports. I have called her Jane and her baby Anne for their privacy. Jane is 17 and Anne is 2 years old. Jackie regularly visits them at their house. It is a shack in one of the poorest slum areas of Kampala. There is no water nor electricity. Abandoned by her mother at just 15 years old Jane was befriended by a Boda Boda* driver and a pregnancy soon followed. Anne is so small that she fits into clothes for a 6 month old. She is often sick but Jane cannot afford medicines and treatment for her. That's when NCSP helps out.
Jane has to pay 50,000 shillings per month for their house, this is virtually impossible for her. The chance that they will have to live on the streets is becoming increasing likely. Due to the famine and refugee problem in Uganda food prices have risen by more than 30% in the last 3 months, it is becoming very difficult for her and her daughter to have sufficient meals every day. Jane can go for days without food, giving every scrap she gets to her weakening daughter. Their only lifeline is this Nafasi led programme, NSCP. Jane has always fought to care for Anne herself but a few weeks ago Jackie urged her to let Anne be looked after at Nafasi Welfare Centre where she can become strong and healthy again and Jane can also regain her strength and earn some more cash to support them.
*Boda boda is bicycle or motorcycle taxi.
Here is a short animation of the visit: https://www.youtube.com/watch?v=KukUpUQbFB4
International Youth Day 2017 Saturday, August 12th
GlobalGiving is holding an International Youth Week Campaign to highlight this special day. This campaign specifically supports projects working with the youth.The campaign runs from 9:00am EDT on Monday, August 7th until 11:59pm EDT on Saturday, August 12th. That is 2pm Saturday 7th August until 5am Sunday 13th August in the Uk.
GlobalGiving published the following: "Today, youth make up 16% of the world's population, the largest ever in history. Children around the world experience extreme poverty, child marriage and prostitution, internal displacement, increased risk of HIV/AIDS, and so many other challenges. Nevertheless, young people everywhere continue to act as community leaders and peacemakers. Every day our children give us hope for a better future and a reason to fight for it.
Nafasi means chance, through our NCSP we are doing our upmost to support and motivate young girls to be better equipped to face problems and help them to make sustainable changes to their lifestyle thus improving not only their own quality of life but that of others by being an example in their community group. Giving them all a better chance for their futures albeit in very difficult circumstances.
Florence is just such an example. Herself a single mother at 17, she went back to college and got a degree. She is now working as a social worker at the Centre helping Jackie with fieldwork investigations and with the community support programme, thus setting an example to other teenage mothers.
Please look on our facebook page for more details.https://www.facebook.com/nafasiwelfarecentre
For more information about Nafasi Welfare Centre and Nafasi Community Support Programme look on the Global Giving Project Page www.globalgiving.org/projects/20522
If you have any quetions please do not hestitate to email us info@nafasiwelfarecentre.org
Thank you for taking time read this report and thanks you again for your support.
Only with your help and donations can we continue to care for babies at Nafasi Welfare Centre and continue to run the teen mother programme
In the words of Nelson Mandela:
"It always seems impossible until it's done. "