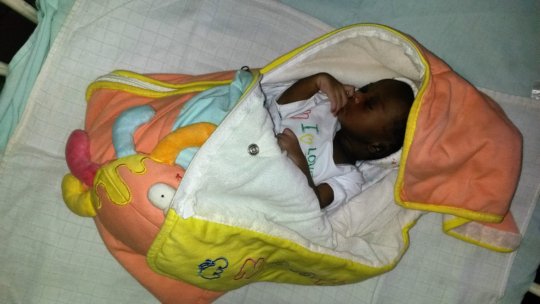 Disowned and discarded at just 4 days old.
Her 15 year old mother was raped by her step brother and sent to the city, Kampala, so that her pregnancy could be kept from prying eyes so that the family name would not be dishonoured. Incest is still taboo in many parts of Africa. She found help at a crisis centre for pregnant teenagers and gave birth to a beautiful little girl she called "Mercy". She put her in a babygrow on which she had written the words; "I love you my baby from Mom, You are precious to me".
Mercy at the clinic
Four days later her own mother and grandmother turned up unexpectedly and forced her to return to the village without her daughter. She was forced to leave her tiny baby behind. The cruel words "you must forget about her, she never happened, you may never see her again', must have rung in her ears as she was remembered the words she had written not knowing that these would be her parting words.
Jackie, manager at Nafasi was contacted by Wakisa crisis centre minutes after they discovered Mercy alone in her cot. Jackie immediately agreed to accept Mercy and made the necessary preparations for admitting such a small young baby. On arrival we took her straight to a clinic for medical checks and her vaccinations. She was laid in warm Moses basket and received individual loving care according to a care plan written by a qualified neonatal nurse. She was in good health but very small weighing just 2.5 kilograms, 5lb 8oz.
Mercy getting a bottle.
Thanks to the dedication of the Nafasi staff who have fed her round the clock for the last 4weeks, Mercy is now gaining weight and thriving. Jackie, together with social workers from Wakisa and probation officers will try to find her mother to see if reunification with her biological family will be possible in the future but this is very doubtful. In the meantime we are looking for a foster family to nurture and love her.
Mercy 2 weeks old in her new cot.
October 28th 2016, the day of the removal from old to new!
Removal day!
Only the gardens need completing.
Thanks to specific donations we have been able to build this wonderful new building for the abandoned babies in Uganda. Thanks to your help we have been able to equip it with new mattresses, sheets, blankets, towels, playing mats, sofa cushions, cups, beakers, plates, bibs etc. Our staff were really amazed when they moved into the new building, saying what an improvement it will make to the standards of the care, health and wellbeing of the young and tender babies, greatly improving their home environment.
Meal time in the new dining room.
David happy in his new bedroom.
We need your help to keep our project running so that we can reach out to help more destitute babies, and through our Community Support Programme to continue to provide training and counselling for our teenage mothers helping them through their crisis.
In the next report we will tell you more about how the move and our plans for the future.
Global Giving are hosting a Christmas Giving Campaign: 50% match
Donations on GlobalGiving.co.uk will be matched by 50%. This campaign is kicking off on Giving Tuesday, 29th November, and ending on 31st December. By joining us during this campaign you can contribute to helping us raise a toast for a successful New Year for all at Nafasi Welfare Home.
Please look out for the flyer we will be circulating soon this Christmas Campaign on our Facebook page. www.facebook.com/nafasiwelfarehome and share it with your friends about it, friends or contacts in the US? We are also on Globalgiving.org
You can help us by increasing awareness about the work Nafasi is doing helping vulnerable babies in Uganda by sharing our GlobalGiving Project Page: www.globalgiving.co.uk/20522 or website and: www.nafasiwelfarehome.org/en/ with your family, friends and contacts.
Support us with regular donations from as little as £5 a month.
We are extremely thankful of all the support we have already received from all our supporters rs and especially our GlobalGiving friends. Thanks to people like you we can carry on this vital work of caring for the vulnerable babies and young children in Uganda.
May we take this opportunity to wish you, our readers, a very Happy Christmas and a peaceful and joyous 2017.
Thank you for taking time read this report and thanks you again for your support.
In the words of Nelson Mandela: "It always seems impossible until it's done."