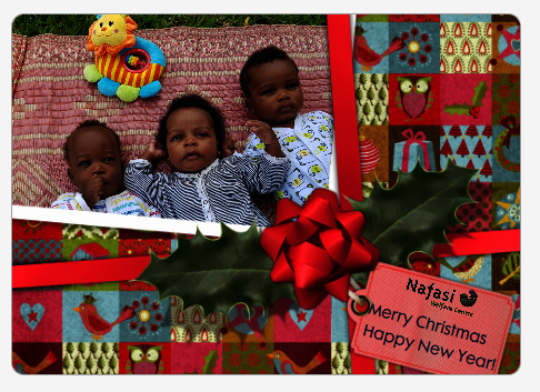 Nafasi's Chance to Celebrate 2018 and look forward to New Chances in 2019 – All Thanks to our Wonderful Supporters
Happy December! 2018 has simply flown by at Nafasi. Thanks to all our donors, supporters and volunteers we have been able to continue to care for our babies and infants, and to secure the resources needed to find and place each into a stable and loving family. We are also thrilled that we have been able to develop our Nafasi Community Support Programme, giving practical support to teen Mums in the most deprived local communities.
In this report, we want to thank you for your support, and for sharing our passion to help families in some of the poorest communities in Uganda. We would like to tell you about how you have helped to transform young lives, and how your continuing support will allow us to expand this vital work in 2019.
In addition to the four baby girls we have featured in our reports this year, all of who are growing and developing really well, our dedicated staff – the Nafasi 'Aunties' – have met the challenge of caring for three newborn babies, all of who came to us within days of each other. All were admitted within days of being born following the death of their mothers in childbirth, tragically too common in poor and vulnerable families. Around the clock care and support is needed in these circumstances and the Aunties have been brilliant in the way they have adapted routines to make sure that each child in our care, from the tiniest newborn to the liveliest toddler, is treated as a valued individual with their own bespoke care plan and routines.
We've been privileged this year to welcome some of our supporters to Nafasi in person, those who have come to stay as visiting volunteers, some for a week or two and others for several months. We are really grateful for their hard work, for making a real contribution to the daily routines of care and play, and for the encouragement and support they give to all our staff. Everyone has brought their own particular skills and experience and working together allows learning from each other. New ideas have been discussed and tried out, and difficult situations faced together.
In our last report, we included first-hand accounts from three visiting volunteers, and we have been struck by how our most recent volunteer, Gea, has described her highlights and most important impressions of her time at Nafasi in such similar terms as they did. Each has wanted to stress how impressed they have been by how much the Aunties achieve, cleverly using resources to the full, and always looking after the babies and children with such love and compassion.
During her stay, Gea had the opportunity to work with our team who run the Nafasi Community Support Programme. We are really excited at just how much the lives of a number of vulnerable young teenage Mums have changed, thanks to this community initiative. Once again it is thanks to your support that we can offer knowledge, practical help and encouragement to young women who are essentially still children themselves yet are having to bring up their own child unprepared and unsupported.
Teenage pregnancy is a major challenge in Uganda, where over 50% of the population are 18 or younger and very many endure the multiple hardships of poverty, being orphans of HIV/AIDS, or as victims of violence and sexual abuse. Teen Mums like those Nafasi helps have become pregnant as young as 13, on promises that having a partner would offer security and put food on the table, or as a result of rape. Forced to drop out of school and left alone to raise their baby, they struggle to see a future for themselves or their child and some then get to the point where they see no option but to abandon their baby.
Whilst the crisis care that we can offer such a baby at Nafasi Welfare Centre is vital, and life-saving, our community initiative is helping to break the cycle of poverty and give the young Mum a life-changing opportunity. Group sessions are held in a church community centre in one of the most deprived areas of Kampala, and others under the shade of our new canopy in the gardens at Nafasi Welfare Centre. Our team run sessions designed to provide these young women with knowledge and skills in parenting, and beyond. Some have regained their confidence to return to school or training, others we have helped develop ideas and learn practical skills to enable them to start a small business.
Through this work your brilliant support is helping us to prevent the precious potential of vulnerable teenage girls from being wasted, it is giving them as well as their babies a New Chance in life – the Nafasi New Chance!
2018 has seen the launch of our 'Adopt a Cot' campaign – asking for recurring donations that can be used directly towards the monthly running costs of an individual cot for a baby or young child in our care.
We think it is a great way for our supporters to feel part of what we do and to see exactly what their money actually does on the ground. In addition to the cost of the cot itself there is bedding, laundry, clothing, food and medicines, plus the costs related to the running and maintenance of the Nafasi Welfare Centre itself etc. All of that is in addition to the all-important costs of providing the loving and individualised care that the Aunties and staff at Nafasi provide, and the social worker costs of family investigations and successful resettlement.
Every donation, one-off or regular, large or small makes a valuable contribution – so looking forward to 2019 we have some plans which will hopefully promote this campaign. Our aim is to raise enough funds to purchase and run an additional 8 cots. Still need an idea for a Christmas present? Why not give someone a GloabalGiving Gift Card and ask them tp choose Nafasi Project #20522, for a present that will help change a life! https://www.globalgiving.org/gifts/
We will tell you more about these and other plans in our next report – in the meantime please look out for Nafasi on social media this Christmas and throughout 2019! We have ambitious ideas to significantly raise our profile in the coming months. We are now on Facebook at 'Nafasi Welfare Centre', so please Like and Follow and Share our posts with family, friends and colleagues. Help us to trend on Twitter at #NafasiCares. Plus, you can also now find us on Instagram as 'nafasiwelfarecentre' – where we'll regularly be posting photos of our precious little ones.
Thank you everyone once again for your support in 2018 and we look forward to it continuing in the years ahead. On behalf of all the Aunties and staff at Nafasi, the babies and young children, and the teen Mums supported in our community project we wish you all a very Happy Christmas and our best wishes for a peaceful, healthy and happy 2019!