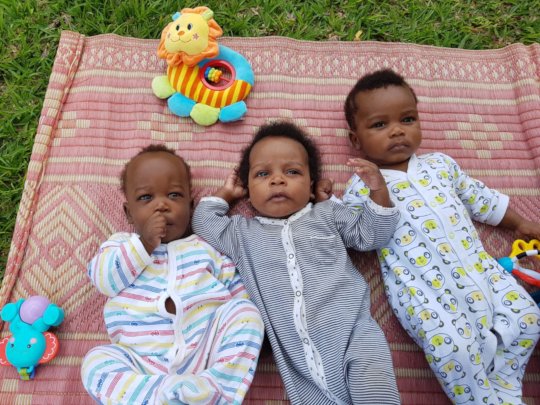 New Chances for 3 Volunteers to work with the Wonderful Nafasi 'Aunties'
In this report we give 3 of our valued volunteers the chance to give us a first-hand account of their recent visit to Nafasi.
Marieke, Caroline and Marjan are 3 of our brilliant supporters from the Netherlands, who have worked at Nafasi before and recently volunteered for a second time, each keen to visit again and offer their time and skills to support our team of caregivers – the Nafasi 'Aunties'. In Uganda the title 'Aunty' is widely used to describe someone for whom you have affection and respect. The title is certainly deserved by our dedicated Ugandan colleagues who take such good care of the vulnerable babies and under-5s who come for a stay with us at the Nafasi Welfare Centre.
Marieke describes Nafasi as "a beautiful place where children who are no longer safe at home, or for other reasons, where they can be offered a safe place to stay. I found it heartening to see how much love the Aunties put into their work and take care of all the little ones".
All 3 stressed how warmly they were welcomed by the Aunties, and all the team at Nafasi, and how genuinely happy everyone was to work together and to learn from each other. Each was struck by the importance given to encouraging the children – how every Aunty interacts with each child as a valued individual and the shared excited happiness when a child can do something for the first time.
Marjan makes a really important point when she explains that it isn't just the babies and children who need encouragement – "the Aunties too need all the support and encouragement we could give them. It's a small thing that we, as foreigners from Holland who care about their work and country, can do something for them. Knowing that we care does, I think, have such a positive effect at Nafasi".
Caroline stresses how impressed she is by how much the Aunties achieve "despite not always having the facilities and resources that we have, and take for granted, in the Netherlands. They really do their best and are so clever at using the limited resources to the full".
During their stay, Marjan had the opportunity to accompany Jackie, Nafasi's Manager, on a follow-up visit to a little boy who has been cared for at Nafasi and recently resettled with his mother. In Marjan's words – "It turned out to be a very timely and necessary visit. Jackie explained things, asked me my opinion, and we discussed what could be done to help the family and what improvements were needed. Their situation is very complex and complicated. There are unfortunately no ready-made solutions that you can apply right away. The regulations and standards mean that you cannot always apply the immediate action that you think may be the best for the child... it is difficult."
Marjan's experience illustrates the crucially important role that follow-up plays in our work at Nafasi. The reality is that not every resettlement of a baby or young child goes to plan. Commitment into the long-term is vital – and it is just that, plus hard work and patience, that Jackie and the Nafasi Social Workers (all of them 'Aunties' too) do day in and day out.
It is the vital bridge with the local communities that can make such a difference, and this is where our innovative community initiative comes in – the Nafasi Community Support Programme. Our 3 visiting volunteers all had the chance to meet some of the teen Mums that the programme supports and to see that support in action in the local community. Marjan has no doubt that is part of the reason that there are "children who have been resettled that are doing really well and this makes us very happy indeed".
Marieke, Caroline and Marjan returned to the Netherlands - after warm farewells again from the Nafasi children and Aunties- and parting thoughts:- "I'm very glad I've had the opportunity to go back to Nafasi, and the Aunties know that I'll be back again someday!"- "I treasure the experience and happy moments, it was truly wonderful to be at Nafasi" – "we are filled with joy and thankfulness that we could be part of making a difference in their young and fragile lives".
Although we can't all have the opportunity to visit and volunteer at Nafasi in person, we really appreciate all the ways in which our supporters contribute, and none of our work is possible without our generous donors.
Our 3 recent visitors had the chance to see the impact of our 'Adopt a Cot!' campaign. All are enthusiastic over its underlying concept – that we ask for recurring donations that are used directly towards the monthly running costs of an individual cot for a baby or young child in our care.
There are many elements that make up the daily living costs of a little one staying at Nafasi- from the cost of the cot itself with suitable bedding (plus laundry costs), to clothing; healthy home cooked and nutritious food etc. There is the medical care; the social worker costs of family investigations and all those costs associated with achieving a successful resettlement. There are costs related to the running and maintenance of the Nafasi Welfare Centre itself, and of course the all-important costs of providing the dedicated loving care that the Aunties and everyone working at Nafasi provide 24 hours a day for as long as each baby or young child needs to be with us.
There is more information on how to adopt a Nafasi cot on http://www.nafasiwelfarecentre.org/donate-2/
Announcing GlobalGiving's September Recurring Match Campaign
We are very excited about GlobalGiving's Recurring Match Campaign. Throughout the four days from 24th and 28th September GlobalGiving has a special initiative running - all the new recurring donations that are set up during this campaign will be matched. The initial donation ( max. $200, £145, €165) will be matched 100% as long as it remains active for at least three months after the initial donation (a minimum of four donations total). So, for example, if you start a new recurring donation during this campaign and keep it active through October, November, and December, then your initial donation from September will be matched!
Click on this link during the Campaign to start a recurring donation:
https://www.globalgiving.org/20522/?show=recurring
Yes! Every new regular donation will result in extra money for Nafasi, money that can improve our long-term financial stability and enable us to give more vulnerable babies and young children life-changing care and love.
Your reliable, steady support will allow us to care for those in need every day of the month!
We realise that signing up for a recurring donation is a much bigger commitment than making a one-time donation. We are very extremely grateful to all the people who are already Recurring donors. Your continued support is really making a difference and giving children at Nafasi a New Chance in life!
It would really help us if you, our readers, can help us spread the word about Nafasi. Tell your friends about the vital work Nafasi is doing and that you support us. Please share our website (here you will find the links to our Facebook and Youtube sites) and our GlobalGiving Project page with them.
http://www.nafasiwelfarecentre.org/en/
https://www.globalgiving.org/20522/
If you have any comments or questions please do not hesitate to contact us: info@nafasiwelfarecentre.org
We are so grateful to each and every one of our supporters, in whatever capacity you support us and thank you again for giving all our babies and their mothers at Nafasi New Chance.