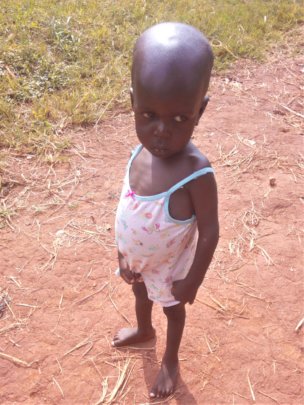 New Chance for Nafasi's very own Elvis!
Yes, it's true! Nafasi is looking after Elvis. Unlike his namesake, his story was one of heartache and tragedy – until he was rescued by Nafasi in December of last year.
Elvis had been abandoned by his mother and left with his father and his new partner. The neighbours alerted the community social workers that Elvis was regularly being locked up in a tiny room in a dark mud hut all day, and without food or water. Now two years and seven months old he had been psychologically abused and severely malnourished, and he weighed only 7 kgs. An average weight for a child of his age is 12 kgs. His swollen belly was a sign of severe malnourishment.
On arrival he was very withdrawn and could not speak. He was very scared of adults and did not know how to interact with the other children.
Six months on the change is amazing! He has put on more than 5 kgs and is in good health. He is very talkative, happy, mischievous and running around the place! He loves helping the Aunties look after the other children and he sings them soothing songs if he sees that no one is watching him. However, he can get upset if he's told to stop doing something. It is then that the scars of the past become visible and we see that he is still very vulnerable and needs thoughtful care.
Nafasi's caregivers have clearly worked wonders with this lovely little boy. Their team of social workers are now working closely with the community to quickly resettle him with his mother, under the guidance of her parents.
Nafasi's New Year Chance for twin girls Precious and Pretty.
These twin girls were admitted to the care of Nafasi at the very beginning of January, when they were just 3 months old.
Their probation officer had requested that Nafasi help look after them whilst their teenage mum returned to school to complete her studies.
Precious is the slightly smaller of the two, Pretty the more active and inquisitive. Both are healthy and have done well at Nafasi. Since arriving they have both learned to sit up unaided, and they love attention especially when in each other's company!
Their mother has now completed her studies, so the twins have recently been resettled in the village where she lives. By mutual agreement, and with the best long -term interests of the girls in mind, they are now living with their father, his sister and parents. The family are farmers and grow maize, sweet potatoes, millet, rice and sugarcane which they sell at the local market. They can provide a safe and stable environment for the twins with financial security, but their mother will be able to visit them whenever she wants and will be involved in their upbringing.
The probation officer and the family are so thankful to Nafasi for the fantastic and timely care that Precious and Pretty received whilst staying at Nafasi. It was a very difficult time for all concerned, and a challenge to come to terms with the unexpected pregnancy and birth of the two little girls. Without this dedicated and professional care, the twins would have had a very different, and much more difficult start in life. The parents are very grateful that Pretty and Precious have been able to benefit from a "Nafasi Chance".
Visitors from The Netherlands.
In March a group of ten people from the Netherlands spent a week as volunteers at Children's Welfare Mission, Nafasi's sister organisation and located on the same campus. When they saw the great work Nafasi is doing, a few of them asked if they could join the staff and lend a helping hand with the daily activities. The children loved this extra attention, especially the balloons and bubbles they had brought with them! Little Elvis was very sad to see them go, although they left with promises to return.
GlobalGiving Bonus Day
Please support us on July 18th, when our charity platform GlobalGiving hosts a bonus day. The day runs from 9am ET to midnight ET in the USA, and from 2pm on the 18th to 4 am on July 19th in the UK. There will be the chance of additional funds to boost donations through the day, and we'll post further details online as the day approaches.
Thank you so much for supporting Nafasi Welfare Centre. We hope you have enjoyed reading this latest report and update from Uganda. If you have any questions please contact us via email or facebook. info@nafasiwelfarecentre.org, https://www.facebook.com/nafasiwelfarecentre/