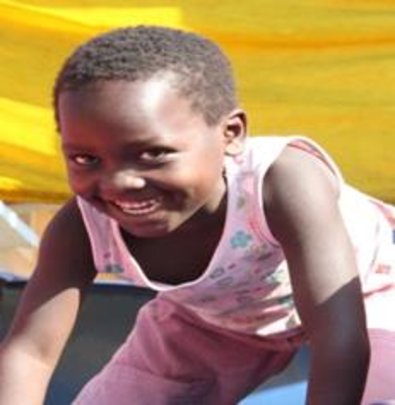 Dear supporters, friends and readers
Nafasi means chance. Thanks to all who gave us a chance to support Nafasi Welfare Home with donations and in any other way during the recent Global Giving Gateway Challenge which we completed successfully. It was a fantastic result and £6692.50 (including Gift aid) was raised in just 40 days! This money has already been put to good use as we have been able to help the children and employ a cook to enhance the standards of nutrition and free up the carers so that they can spend more time caring for the children. The goal of this project is to continue to provide a new chance for babies and young children who urgently need somebody to take care of them after a poor start in life, and who literally need a fresh start and a new chance.
Joyce
Here is "Joyce's story", just one example of how Nafasi helps vulnerable and destitute children. Joyce was one of the first children to be helped by Nafasi. She is a beautiful little girl with sparkling brown eyes and a captivating smile. She is very intelligent, loves to learn and is quick to pick up new skills. Nafasi took her in after she had been at a reception centre for over 6 months. She was very thin and in poor health. In Nafasi she received a safe place to stay, a clean home with her own bed, clothes and toys, 3 meals a day and also the care and individual attention that a four year old child so desperately needs. She could be a child again instead of a number, fighting for survival in an unsafe, stressful and overcrowded reception centre. She soon settled in, relaxed, put on weight and started to thrive. She loved playing games, and helping the younger children and the carers. She soon became the leader of the group. It was so rewarding to see her progress and development. However, there were times that we could see that she was still very traumatised.
When Joyce arrived at Nafasi we knew very little about her background. The only information we had was that she was from Entebbe and that her father was in prison but we knew nothing about her mother. In the reception centre the conditions were dreadful; she had one meal a day, slept on the floor and got little attention. Unfortunately, the staff did not have the time or resources to trace the children's biological families.
When a child comes to Nafasi our social workers immediately start investigating their background, working together with probation officers and other involved parties. We soon found Joyce's father in prison. He had separated from Joyce's mother when she was three months old. He had been arrested during a riot in which shots were fired. Joyce had witnessed the whole terrifying incident. When he was arrested she got taken to the reception centre and they never saw each other again. We could now trace her mother too! Her mother was delighted when she heard that Joyce was safe and well. She told us that she had often thought of her but had lost all hope of ever seeing her daughter again, as it had been impossible to keep in touch with the father as he had no fixed address. She was thrilled at the prospect of seeing her little girl again. Joyce was reunited with her mother six months after arriving at Nafasi, and they have been together now for over two years. Her mother has two younger children. Joyce soon took on her big sister role, helping her mother with the children and household jobs. The family is very poor, and although her mother has a job she earns just £15 (UGX 80,000) a month.
Joyce and her mother.
We have found a sponsor to pay Joyce's school fees and she now attends a boarding school that is run by our partner charity, Stichting Kinderhulp Afrika. She is in the second year of primary school, is doing very well in class and loves singing and dancing. In the holidays she goes home, and we can see a close bond of love and trust developing between mother and daughter. We hope this will stand them in good stead for the future after such a difficult and tragic beginning. Nafasi will continue to follow the family closely and offer support where appropriate.
Joyce in her school uniform.
We are very grateful for your help, as collectively you have played a significant part in making a huge difference in the lives of these defenceless children. We believe that every child deserves the right to grow up in a loving family. Since starting the Global Giving Challenge in June we have been able to resettle 2 sets of twins and 2 other babies aged 6 and 8 months old. You can follow the progress of more children we have been able to help in future reports on this Global Giving project page, www.globalgiving.co.uk/projects/nutrition-healthcare-shelter-abandoned-babies-uganda/ on our Facebook Page, www.facebook.com/nafasiwelfarehome and on our website. http://www.nafasiwelfarehome.org/en/
Kato and Wasswa, twin brothers aged 18 months.
By supporting us in the future your help will ensure that Nafasi can continue to provide a temporary home for abandoned babies and young children, caring for many more children like Joyce, and giving them hope for a safe and stable future, a new chance. Please will you help us by taking a just few minutes of your valuable time to promote our story, by sharing our Global Giving Page with your friends and contacts and telling them why you decided to financially support our work. By becoming a regular donor or making further donations you can continue to help us make a vital contribution to the lives of abandoned and helpless babies and young children in Uganda.
Thanks again for your support.
Maria safe in Nafasi.