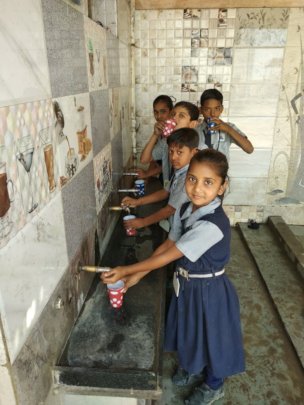 Dear Donors, Well Wishers, and Friends of BPA.
Greetings from India!!
We wish you very Happy New Year 2018!!! This is the first report of the year 2018. We are very excited and happy to share progress report of Inclusive Schooling for Children with disabilities" Project.
You will be very happy to know that the project has very made significant achievements, and impact on Children with disabilities and non-disabilities.
Following major highlights will take you through school activities happened in the previous reporting year. Many of the activities were planned and organized first time due to your generous financial support.
Academic Activities: The school academic was begun from 5th November 2017 after Diwali Vacation. We are glad to report that there is 0% drop out this year after Diwali Vacation. The present strength of the school is 238 students, out of that 106 are girls, and 132 are boys. The girls ratio has been improved, and parents are ready to send their daughters to the school due to safe environment, sanitation facilities and most importantly very good education in the school without any cost.
Celebration of Republic Day on 26th January 2018.
Indian Republic Day which is observed and celebrated every year on 26th January 2018. The Republic Day was celebrated in the school. The children with disabilities and without disabilities performed cultural and patriotic songs and dances. The students who participated were felicitated by token gifts.
Excursion Visit of Students.
During the reporting period, very short excursion visit of the students and school teachers was organized. They visited very known place Junagadh in Gujarat. They climbed Girnar Rock (10,000 steps), visited very famous Asiatic Lions Sanctuary. This was the first time, these poor children came out of the village, and travelled such distance places along (without parents). They enjoyed and had lots of fun.
Science Fair:
It is very important to make children innovative and creative. To showcase their innovativeness, and creativity in the field of science, science fair was organized in the school. Nearby schools were also invited to participate in the science fair. The group of the students prepared two science model; Robotic Bridge, and sewage treatment system. Both projects were highly appreciated by the visitors.
Celebration of Festivals
It is essential to give deeper understanding about festivals to the children. To give them better understanding about the festival, the school celebrates festivals in the school. This make the student understand importance of the festivals, why it is celebrated, how it is celebrated. It creates very joyful environment in the school. During the reporting period, Christmas, kite festival and Holi (festival of colours) festivals were celebrated.
We are very happy to share that school has set up safe drinking water facilities for the children. This facility is fully accessible to the children with/without disabilities. We achieve this milestone only because of your generous support and encouragement.
Plan of Action:
There will an annual examination in the month of April, and summer vacation will start from the month of May 2018. The teachers will do home visit of children with disabilities, and also identify new children with disabilities who are in age of school education, their parents will be motivated to send children to the school.
School has also planned to step small story book library and computer lab in the school, hence the students can develop reading habit, and can learn computer skills.
We look forward your heartfelt support, motivation, and handholding to provide quality education, and serving poor families who cannot afford education of their children with/without disabilities. You are most welcome to visit the project whenever you are happened to be in India. We will very happy to show our organization and various activities of the organization.
Thanking you