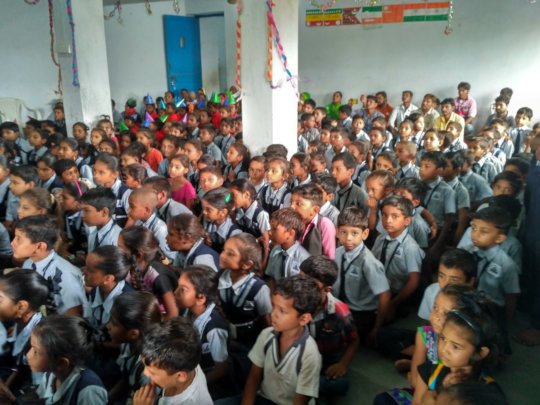 Dear Donors, Well Wishers and Friends,
Greetings from Blind People's Association!!
I am very thankful to you for your wonderful supports, encouragement to running this project very effectively. This is the second quarter of the project. I am sure that you have received the progress report of the first quarter. I am ready with report of second quarter.
1. General Updates of the School:
In the second quarter, the inclusive school has made very good progress in terms of providing education to the childrens. The children received transport facility, stationary, and meals in the school. There is no drop out of the students in the reoporting period. The teachers training program has been organized. New techniques for Mathematics, Science, and English was key theme area for the training. The school was closed down during the Diwali Vacation 19th October 2017 to 6th November 2017 as per the Government of Gujarat Notification. Then there was mid term examination in the school for the standard 1st to 8th Standard. All the students appeared in the exam. The results are awaiting.
2. Celebration of Festivals and Events.
I wish to inform you that India has very diverse culture and traditions. The festivals are part of Indian culture and tradition. The school organized festivals and events to associate children with disabilities and non disabilities with the cutlure and tradition. In the curring reporting period, the Navarati and Diwali Celebration was organized in the school. The stundents from all standards celebrated the fesitvals, participated, and enjoyed the same. This was very good learing about own culture and festivals.
Teachers day was celebrated on 5th-Sept, Student became teachers. Student of 8th standard Balram became Principle and student of 7th standard Devkan became Vice-principle. All the student who became teachers shared their experiences as student and they had discussed the problems.
3. Participation in Khel Mahakumbh:
The students of Inclusive Schools both disabled and non disabled children participated in the statewide sport competition organized by the Government of Gujarat. The disabled studnets participated, and won district level competition in try cycle running. They won awards of Rs 3,000/-.
4. Street Play on Voting Rights:
As there is election in the state of Gujarat, District Collector has requested schools to participate in awareness generation program. The students of inclusive school have prepared a street play on voting rights. They performed the street in Kankariya fesitval, on 3rd December 2017 International Day for Persons with Disabilities. The theme was voting rights of persons with disabilities. The street play was so appealing and highly appericiated by the district administration.
Plan of Action:
1. Upgrading Drinking water facility in the school
2. Setting up Computer labs
3. Health Check up camp for all students
4. Setting up Story book libraray