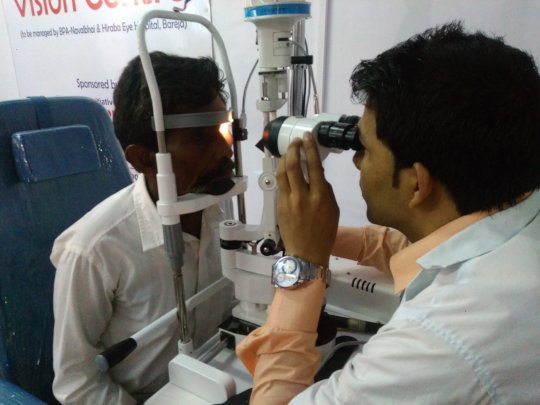 Dear Donors, Well Wishers
We are so touched and thankful to you for your humble support. We can provide best quality health services, and mainly able to save a sight of the needy person only and only because of your support, encouragement and your faith in our work. This keeps motivating us to reach more and more people who are out of health services. I am glad to share with you that in the previous quarter, the project has made very significant achievements, and development. I am happy to share with you which is as below.
Ultra Modern Laminar Modular Theatre : The ultra modular laminar operation theatre was inaugurated by Shri Prafulbhai Patel, and Shri Asishbhai Patel on 8th September 2017 at BPA Bareja hospital complex. The new eye surgical unit will help BPA to reach out to more persons whose eye sight is failing.
Vision Center in Bavla: BPA Bareja hospital has been supported by Gruh Finance Limited under their Corporate Social Responsibility to start a vision center at Bavla on the way to Ahmedabad to Rajkot. This centre was inaugurated on 6th September 2017 at NAB Savinay Sammalit Vidyalay Bavla by Ms. Mina Bhatt and Mr. Kaushal Mulani of Gruh Finance Limited. The center will check patients with needing surgery to the BPA – Eye Hospital. All the services like surgery, travel, food, medicines will be provided without any charges.
WAGH BAKARI CSR –MEGA EYE CAMP: Wagh Bakari is very famous Tea producing company in India. The Wagh Bakari Tea family sponsored a mega eye camp under their CSR initiative. The mega camp was organized on 24th September 2017, 927 patients attended the camps, and received treatment services without any charges. During the diagnosis, and treatment; it was found that 93 patients required cataract surgeries, 19 patients other treatments, and surgeries related to eye. In this mega camp, 584 were provided spectacles and 803 patients received eye drops, and medicines. Out of 93 patients, 50 patients were taken to Eye Hospital for Cataract surgery. These 50 patients received best eye care services without any charges.
Retina Surgical Unit: The new retina surgical unit was inaugurated on 13th June 2017. The Mazda Limited supported Eye Hospital to construct Ratina Surgical unit, and procure equipments for operations, and treatment of retina. This was great milestone for eye hospital of BPA. It would add new activity under Seeing is Believing Project. There are very few hospitals which provide treatment related to Ratina, and those provides treatments are very expensive and unaffordable to the poor patients. An average retinal detachment surgery costs around Rs 25,000 and in many cases surgery may be required a second time unlike cataract which is a onetime surgery. Hence, this retina department of the hospital would provide affordable, best quality services to the poor patients without any charges.
Surgeries Conducted in the previous quarter: The project has conducted 34 camps in Sabarkantha District, and in slum areas of Ahmedabad. The patients who had been diagonosed having cataract were referred to BPA hospital for the surgeries and treatment. In the previous quarter, 1238 cataract surgeries were done without any charges. The patients were given free medicines, spectacles and eye drops.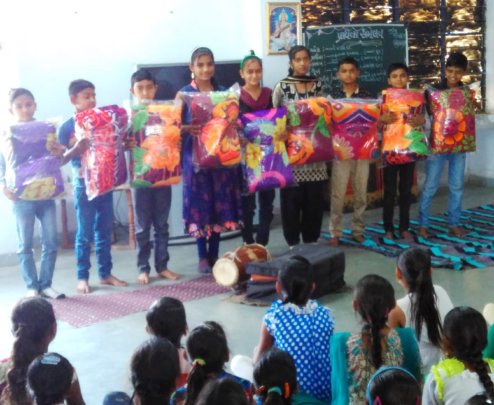 Dear Donors and Well Wishers,
Greetings!!
We are very grateful to your patronage and faith in our project. You are the first people who invested in this project, and enabling us to cater good quality education to children with disabilities and non disabilities. The Inclusive Schooling project has made very good progress in the previous quarter with your support. We are very happy to share first progress report of this project.
Key Highlighted Activities and Achievements of the Project.
In the month of April we conducted Exams from 06/04/2017 till 15/04/2017 after that teachers were busy in checking the papers and on 29th-April we had declared the results. There are seven students who received awards, that includes two children with disabilities.
On 29th-June Shala Pravesh Utsav (School Enrollment Drive) was organized to welcome new students of KG and 1st standard We gave prizes to the students who stood 1st in their respective classes so as to encourage other students and they really enjoyed. The enrollment of girls students were on high priority, the family members were counseled for the same. The impact was that 18 new girls took an admission in the school.
New bus was purchased to provide transport facilities to the children coming from remote areas. This will help the children reach to the school on time, and back home on time.
Details of Students are enrolled in Inclusive Schooling in the school 2017-18
Class Boys Girls Total
Kindergarten 24 14 38
Std.1 21 21 42
Std.2 21 13 34
Std.3 17 16 33
Std.4 13 15 28
Std.5 11 12 23
Std.6 09 08 17
Std.7 16 11 27
Std.8 14 07 21
Total 146 117 263
Celebration of Days and Events in the School.
The Independence day was celebrated on 15th August 2017, the National Flag hosting was done by the student with cerebral palsy. The students also sung patriotic songs, and also performed dance.
The students also celebrated Rakshabandhan, and Janmasthmi (birthday of Lord Krishna) in the school.
Thank you very much for investing in our project, which has resulted in smiles, happiness and aspiring poor children with disabilities and non disabilities to persue higher education. We kindly request you to share this report with your friends, and family members. We will share case studies, and progress report regularly with you, and also keep you updated.
With Best Wishes
Dr. Bhushan Punani
Executive Secretary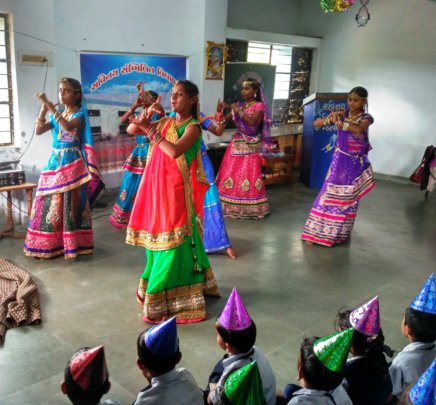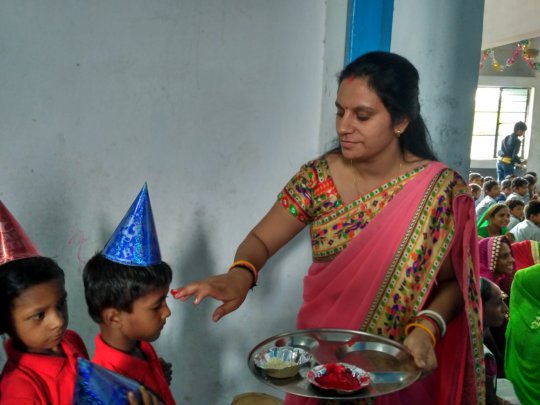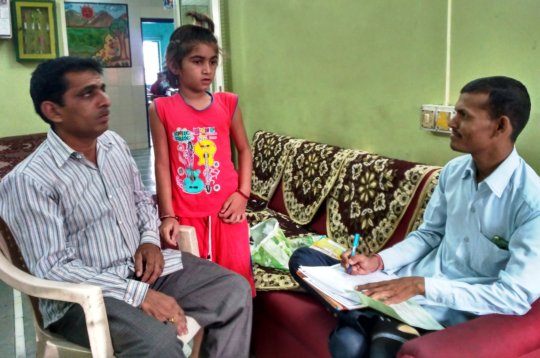 Dear Donors and Well Wishers,
We are happy to share progress report of our project "Seeing is Believing" for the period of June to 15th August 2017. The project has made following achievements.
Achievements:
Thanks to you wonderful human beings...our donors we have been able to provide the gift of sight to the rural poor. These persons would have been left to fate without your generosity!! Thanks for putting smiles on their faces!!!
2260 patientsunderwent surgery at Navalbhai and Hiraba eye hospital. (742 patients were from camps and 1518 patients from Hospital walk ins)
32 outreach programs were organized in remote locations mainly in triba, remotel and slum areas of Gujarat.
9658 patients were provided eye related treatment at their doorsteps.
918 patients were identified as having mature operable cataract and 742 had their surgeries at Bareja hospital. and their cataract have been removed and they can see again
2478 patients were given treatment related to eyes in Vision Centers located at following places; Vatrak hospital, Kalol Noor Mahamadi Charitable hospital and Modasa Annpurana Trust. These centre are in North and Central Gujarat...a state in Western India.
Upgradation of Hospital under Seeing is Believing Project.
The Hospital now has a state of the art Operating Theatre which is modular and has a laminar system which prevents stale air from remianing in the room. It also helps to purify and circulate the air thus eliminating infections. We also have modern microscopes, lasers and other diagnostic tools and equipments. As Diabetes is on the rise we have starteda Diabetic Retinopathy Centre.
Human Resource Development Program
To ensure quality services, use of advance technology to provide best treatment to the patients, the hospital has deputed staff members for these trainings.
7 staff members were trained in OT and OPD management under SEVA Scale project. which is part of Vision 2020.
4 ophthalmologists have been enrolled under Cataract fellowship program.
25 optometrists from Utrakhand, a north easter state of India, have completed their internal internship at the hospital
We look forward to the same support, love and encouragment in future also. Please share the project details of Seeing is Believing and your invlovment in the project with your friends and family members. We need more such good friends and well wishers like you to acheive our targets, and serving human kind. We need your proactive help.
With Warm Regards
Dr Bhushan Punani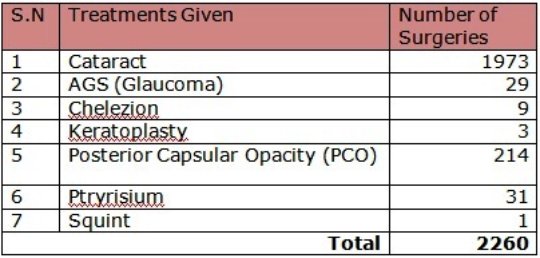 WARNING: Javascript is currently disabled or is not available in your browser. GlobalGiving makes extensive use of Javascript and will not function properly with Javascript disabled.
Please enable Javascript
and refresh this page.