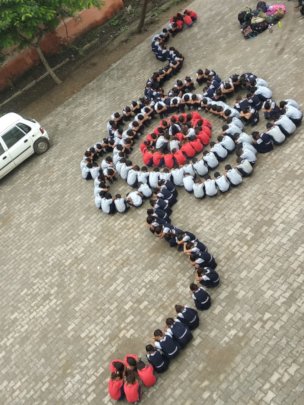 Dear Donors,
Greetings from Blind People's Association.
Our students from Inclusive School has conveyed big thanks to you for helping them in completing academic year 2017-2018. Now, academic year 2018-2019 has begun from June 5th 2018. The students have long summar vacation, and they are now back to the schoo. The school is now become so live, playful.
We are happy to inform you that school teachers have worked very hard during the summar vacation. The special refrehser training program for academic as well as non academic staff was organized for 10 days. The theme of the training program was Disbility Management, Curriculum adaptation, and inclusive teaching learning materials. At the end of the training program, the teachers were so emotional, and felt that the children with disabilities must be given extra time and prioirty for quality education. The teachers has developed accessible teachin learning materials that can be used by students with and without disabilities. The teachers did survey in the 20 villages, and identified 12 children with disabilities who are in school going age, 8 children with disabilties were enrolled in the school.
This year, the school has organized school enrollment drive specially for girl students. The parents of girl child was counseled them to send her to school. The enrollment drive was so successful and parents supported it very well. At the end of the enrollment there were 48 new girl child admission that includes girls with disabilties. At present, there are 297 students that includes 14 students with disabilities, 249 students are from economically back ward class, 21 are schedule caste and 22 schdule tribes. There are 82 new admissions in the school.
The utimate aim of inclusive school is to promote inclusion, and value of tolerance, acceptance and respect the diversity. To promote social inclusion, the school has organized festivals and day in the school. Hence, the students are from different background can participate together and learn from each other.
The school has celebrated Envionrment Day through tree plantation event. Each classroom has given responsibility to ensure that the plant must grow, and properly taken care. The students have taken responsibilty voluntarily.
The school has also celebrated Indian Indepenence day, the students have performed patrotic songs. The friendship was also celebrated in the school. The students have celebrated Rakhi day in the school.
The students have received two pair of uniform, school bag, and stationaries free of charge. They are also given free transporation and education without any charge.
The students with disabilities and without disabilities are very thankful to all donors for their generous support for providing clean and safe drinking water.
The education and future of each child is securedby only your support to these children with disabilities.
We request you to provide generous support for very bright future.
Thanking you
Dr Bhushan Punani