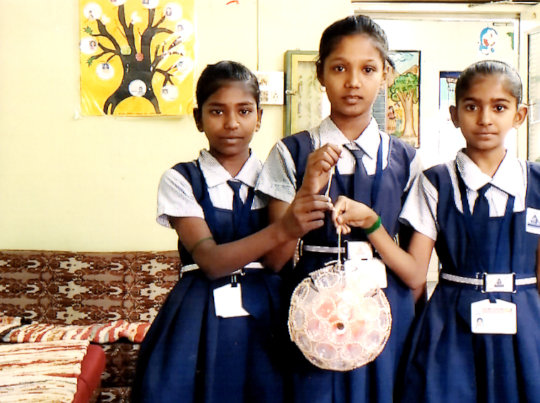 Inclusive School of Blind People's Association has been making very good progress, will be leading towards model inclusive school. We make good use of your generous donations in not only educating children but also in making their life a little brighter and eventful with all year round celebrations. Celebrations are an integral part of Indian Society, so to connect the students with their roots it becomes essential for a school to celebrate all sorts of the festival. To connect children to what is happening around the world, we also observe several international days.
We celebrate various different festivals and days on campus. These celebrations are held throughout the year. Following is a list of celebrations that took place in school and how the children reacted to it.
Kite Flying Festival:
Kite Flying is a famous festival in Gujarat. This festival witnesses kites of different shapes and colours soaring high in the sky. In our school, we celebrated the Kite Flying Festival on 13th January 2019, in the presence of all students. The children were asked to bring kites and thread from their homes. The students enjoyed themselves to the fullest.
Republic Day:
Republic day, the national festival was celebrated on 26th January 2019. The Indian Flag was hoisted by Mrs Vimal Thawani (Project Director) of BPA in the presence of all students and academic staff. The flag hoisting was followed by a Patriotic Song competition. Children participated enthusiastically and in large numbers.
Gandhi Ji's Death Anniversary :
On this day Mr Raghvendra delivered a lecture on Gandhiji and his immortal life on 30th January 2019. All the students were very attentive during the lecture also interacted with Mr Raghvendra.
World Science Day:
We celebrated World Science Day on 28th February 2019. Our students presented innovative ideas of modern science. All teachers shared different information on science to students.
Basant Panchami:
Basant Panchami Celebration was held on 9th February 2019 at our school. The event began with students and teachers worshipping Goddess Saraswati. Later we distributed Biscuits and Chocolates to students.
Elocution Competition:
Elocution Competition was held on 16th February 2019. In this intra-school competition over 50 students participated. We have distributed the prizes to first, second and third winners of the competition.
World Mother-tongue Day:
We celebrated World Mother-tongue Day on 21st February 2019. Students played the role of famous poets. Nilesh of Standard 6th had played the role of Poet Premanand and Vishnu from Standard 7th had played the role of Poet Narmad. These two children also shared more information on the Gujarati Language. Ms Rashmika and Ms Asmita had also delivered a lecture on the importance of Mother-tongue to students. A Dictation Competition was also held on this day. The winners received prizes.
Maha-Shivratri Celebration:
We celebrated Maha-Shivratri on 3rd March 2019. "Shiv Pooja" was arranged on this occasion. Teachers spoke about Lord Shiva's Gatha in front of students. Students worshipped Lord Shiva and they were later served Kheer, as a prasad which was enjoyed by all the students.
Parents Meeting (Kinder Garden):
The Parents Meeting was arranged on 7th March 2019 at school premises between 10.00 am to 11.30am in this meeting we discussed education systems, school rules and regulations with parents. We also discussed the new admission procedure with the parents. All students and parents during the meeting were provided with snacks.
International Women's Day:
We celebrated International Women's Day on 8th March 2019. Mr Kalidas our teacher delivered a lecture on Women Empowerment to our students.
Dandi March Day:
Dandi March Day was celebrated on 12th March 2019 at our school. The drama was played on Dandi March, was Nilesh of Standard 6th played the role of Gandhi and Anisha of Standard 5th played the role of Kasturba. Various other students of the school also participated in Dandi March. Ms Hetal and Ms Rashmika, the teachers of school provided information about Dandi March to our students.
Parents Meeting (Std. 1 to 8):
We arranged Parents Meeting on 12th March 2019 at school premises between 10.00 am to 11.30 am. during this meeting we discussed education systems, school rules and regulations with parents. Mrs Vimal Thawani, Project Director, BPA was present on the occasion. She motivated both the students and teachers with her speech. Snacks were provided to all students and parents during the meeting.
Holi-Dhuleti Celebration:
The Festival of Colours Holi-Dhuleti's celebration was held on 19th March 2019 in the evening between 3.40 p.m. to 4.15 p.m. All students and teachers played with each other and enjoyed the festival of colours.
World Water Day:
We celebrated World Water Day on 22nd March 2019 at our school. Mr Raghvendra bhai, our teacher, gave information about World Water Day to students. There was an activity to create banners and posters about Saving Water. Students of Standard 7th participated in this activity. Their creations were also displayed in the classes.
Martyr Day:
The Martyr's - Rajguru, Bhagat Singh and Sukhdev were remembered on Marty's Day i.e. 23rd March 2019. Our students and teachers remembered by garlanding their photos. Ms Hetalben, the teacher of our school, gave information about the martyrs.
On the same day, the Block Resource Centre of the Government invited two of our Teachers for training them in safety.
Farewell Function of Standard 8th Students:
The Farewell function of Standard 8th Students was held on 26th March 2019 at our school. We invited students along with their parents. The students and teachers both shared their experiences and memories during the function. We distributed the trophy to the best student of the year along with a certificate. On this occasion, we distributed certificates to all students. Our school principal, Mr Darshan Patel, motivated parents to further educate their children. We served light snacks to students and parents.
Observation and Training for Persons with Disability (Divyang) Students:
Observation and Training for Persons with Disability (Divyang) Students were arranged on 28th March 2019. Ms. Jigna Joshi and Ms. Krupa Velani, the Project Managers gave information about the program to the Divyang Students. Ms. Joshi and Ms. Velani observed the education systems and how we can help the Divyang students. They also guided teachers about how to behave with them and how we can teach them.
The result of the inclusive school is 100%, and the majority of students have secured 70% and above marks. We are happy to inform you that more 27 children with disabilities have been identified, and will be enrolled for education in the inclusive school. Transportation will be provided to them.
We are happy to say that we had started the admissions of Junior KG. The number of applications was more than the number of seats and there were many students who were denied admissions.