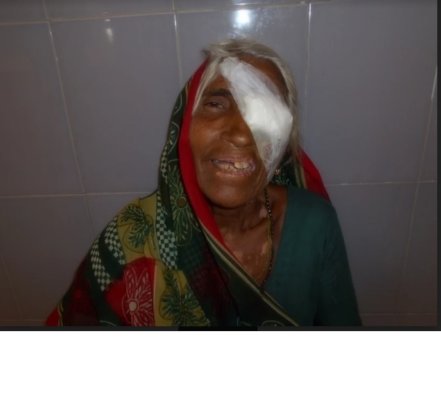 Dear Donors and Well Wishers,
Greetings from BPA!!
We are very thankful to you for your generous support to our project Seeing is Believing. The project has made very good progress, and expansion has been happening in the project. We are delighted to inform you that Eye Hospital has signed an MOU with a local organization in Vatrak (a small town in Central Gujarat) to establish a satellite hospital. The project will help this organization to build a model eye hospital.
As we are committed to reaching out to unreached people and provide best eye care services without any charge, or very affordable charges. I am happy to share the progress report for the previous quarter.
During the reporting quarter, a total number of 2691patients were undergone surgery at Navalbhaiand Hiraba eye hospital, An unit of Blind People Association, Bareja among which 2358 were undergone surgery for cataract the leading cause of blindness.
During the reporting period, 62 outreach programs have been organized in remote locations of Gujarat where 9878patients were provided treatment at their doorstep and among them, 1426patients were identified as cataract and 987undergonesurgeries at Bareja hospital.
Vision centre is running on regular Basis at Vatrak hospital, Kalol Noor Mahamadi Charitable hospital, ModasaAnnpurana Trust, Bhiloda and Bavla, which provided treatment to 2658patients for various eye problems.
Cataract fellowship program started in the hospital of which 11 ophthalmologist been enrolled for a period of three months.
10 optometrist from Uttrakhand has completed their final internship at the hospital.
Statistical report of Blind People's Association-Bareja
Cataract: 2358 people have been provided free treatment and surgery for the cataract.
AGS (Glaucoma): 23 people have been provided free treatment and surgery for Glaucoma.
Chelezion: 9 people have been provided for free treatment.
Keratoplasty: 16 people have been provided with free treatment.
Posterior Capsular Opacity (PCO): 241 people have been provided with free treatment.
9878 people have been provided with eye care services in the outreach camps.
Now, we are planning to start an eye collection centre in BPA Eye hospital. We have initiated the process for the same. Then, people can donate their eyes to our eye hospital.
Your generous support motivate us to keep doing new things, and increasing our targets. We look forward your sustained support.
We request you to visit our organization whenever you are happened to be in India, you can also motivate your friends and family members to visit our organization.
Thanking you once again.
With Best Wishes