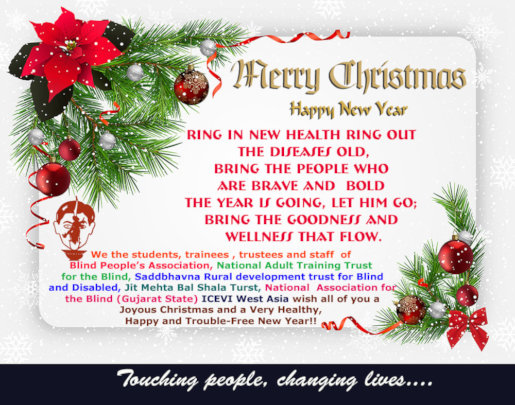 Dear Donors and Well Wishers,
Greetings from Blind People's Association.
We are witnessing a pandemic, the proportions of which, have never been seen in this world. The feeling of helplessness, anxiety and uncertainty looms large…
Amidst the gloom, our organization proved that it has the gumption to keep on working in the Corona crisis. We did not stop our work or close the institute but continued as a relief organization in helping people in these times of need. We made and distributed one lakh masks free of charge in our bid to prevent the increase of infection. We distributed 36000 ration kits to people with disabilities who had lost jobs, small trading to survive. We also distributed the kits to poor patients who had been operated BPA Bareja Eye Hospital. The hospital staff visited the villages and provided the ration kits at the doorstep.
We are happy to share that when the hospital services were resumed especially operations started conducted, poor patients feel so happy. They have been waiting for cataract surgeries and other eye-related treatment. They have also affected adversely with the lockdown, mainly the daily wage labourers. They did not have the fund for eye surgery.
Mr Ashwin came to BPA'S Porecha Eye Hospital on June 2020 with a complaint of pain, redness and no vision in the left eye. On detailed assessment, and examination, it was confirmed that some dust and insect fall in the left eye. On detailed examination, perforated corneal ulcer with a flat anterior chamber was diagnosed. Due to poor financial conditions, and he can not afford high-cost surgery. BPA Bareja eye hospital approached to various eye banks for cornea tissue, but it was not available due to covid 19 conditions. The patient was advised glue and bandage contact lens to reform the AC and to provide him some time so that Keratoplasty can be done later on. Finally, after 3 months, the perforation got healed and cornea opacity developed.
We performed Optical Keratoplasty with the help Drishti Daan Eye Bank, Bhubaneswar from where we got good quality of optical tissue for keratoplasty. He is happy with the restoration of vision as this young boy can perform his day to day activities.
We are happy to share with you that during the year 2020, we have conducted more than 8000 cataract surgeries and 98 Keratoplasty surgeries. More than 1,50,000 have been provided with eye-related treatment and glasses.
It is an honour and recognition to the hospital that Japanese Consulate had supported the hospital in setting up Retina unit by providing OCT and SLT Machines. It was love from People of Japan. The Vice Counsel General OF JAPAN, MUMBAI In The Presence of On 4th Of November 2020 At Porecha Eye Hospital, Bareja.
The year is about to end, and we wish the upcoming year 2021 will be Corona Free Year. We will all have beautiful l, healthy, and peaceful life. We wish you a very Happy New Year 2021.
Our plan for the year 2021 is to start our eye services in Rajasthan. We also want to set up a multi eye care speciality hospital in Vatrak which is a tribal area. We also wish to do eye care campaign for school students.
We look forward to your sustained support and cooperation. Together we can serve more.
Thanking you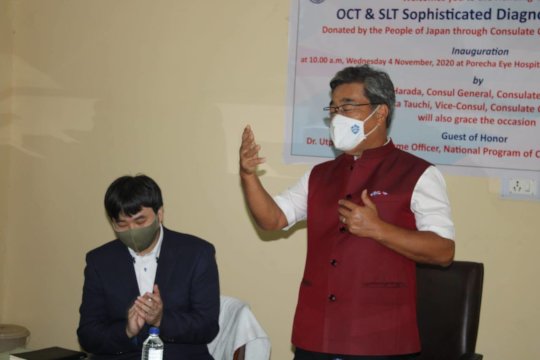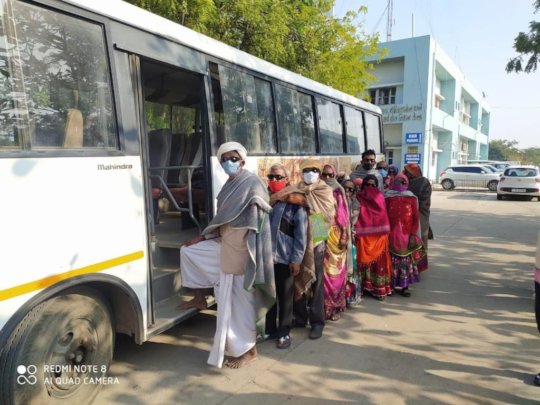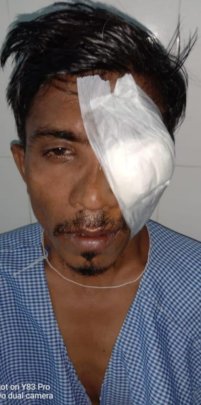 Links: