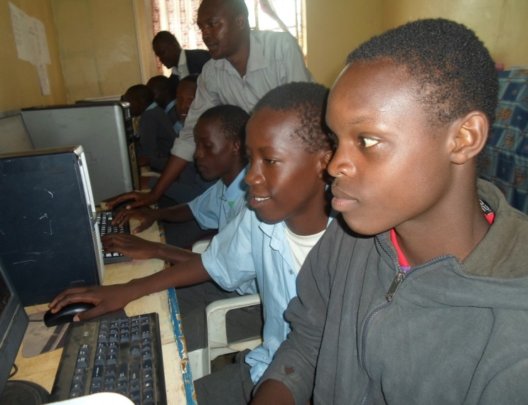 Internet Connection: Having learnt the importance of using the internet during our training sessions, a few enthusiastic teachers from different Technology Partnership (TP) schools made individual efforts to access the internet by using Safaricom USB modems. Unfortunately this enabled a limited number only 1 or 2 people on a stand-alone computer. When we got the funding to provide internet connections in a number of schools, many teachers and students were able to access the web through computers in their school labs. There is great excitement among teachers and students in those schools because they are able to find so much information, learn a lot, and share resources and experiences with others outside of Kenya. They say the web not only has so many resources but it is also fun to use and to learn. Our schools, students, and teachers use the internet in a variety of ways. Some include the following:
a) Communication: The school administration, teachers, and students use the internet for communication via emails, social media, etc.
b) Collaborative Online Projects: Some schools like Meru High school, Fred's Academy, and Materi Boys High school have done online collaborative sharing projects with partner schools in the US. These projects include a Drama exchange with Denver Center for International Relations, participation in the World Affairs Challenge sponsored by Regis University, and connecting students on penpalschools.com.
c) Teaching and Learning Resources: Teachers are using the internet to look for teaching content and resources when preparing lessons. For those who are advancing their careers through higher education, the internet is invaluable for study and research. One member of our TP leadership team in Kenya, Carlos, is currently enrolled in a Master's program in Development Practice through Regis University and delivered through the Posner Center for International Development IEE global classroom via live web-conferencing.
Students in our schools with internet are searching the web for learning content and extra resources for assigned topics during their lessons. These students are taking responsibility for their learning and are able to pursue independent avenues of interest in addition to teacher-directed assignments.
d) Posting and sharing of videos: Students are using the internet to post and share videos for learning projects, such as cultural identity through myth and storytelling in our Drama project.
e) Mobile uploading of school reports: Some teachers who have advanced internet use are able to prepare and upload school reports from anywhere, which are needed by the school district administration.
f) News: Teachers and students say they are now able to know what is happening in other parts of the world because they can access and read news from anywhere in the world. It has opened and connected them to the world! Previous to these connections, schools of 600 students would have one local newspaper each day, which would be posted on a bulletin board for all the students to read. Imagine the limited world view that results from such restricted resources!
g) Training Resource Centers: Some TP schools connected to the internet are being used as training resource centers because the trainees or the trainer can access the web to use it during training. The Kenya government selected some of our teachers, because of their expertise, to deliver regional teacher training in internet skills as the government rolls out their computer initiatives.
Links: