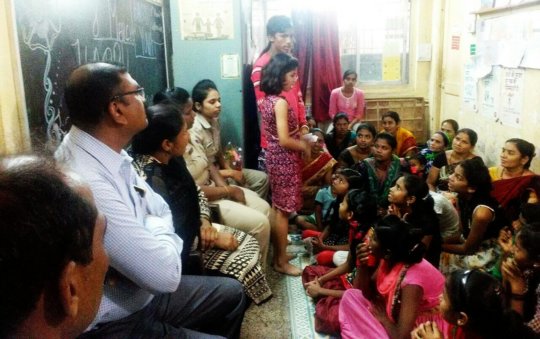 On 8th March, YUVA, in collaboration with Bal Adhikar Sangarsh Sanghathan (BASS-Association for the Child Rights Struggle), celebrated International Women's Day in a memorable way. A special programme, aimed at making the surroundings safer for women and children, was organised at Indradhanush Child Center, which saw participation of around 55 children and 15 women from the surrounding slum areas. Along with Sub Inspector Shri. Kedare, it was graced by the presence of women police officers from the local Mankhurd Police Station, Ms. Prajacta and Ms. Sunita, who, as examples of women who have achieved challenging feats, sowed seeds of inspiration in the minds of children.
Mr. Vijay set the event in motion by enlightening the importance of the day and the motive of the event. He talked of how the place was modelled for the safety of women and children and how necessary it is to have the slums converted to a similar safe haven for women and children. He also described to the audience the process of conducting surveys, discussions and mapping of safe and unsafe areas for children in settlements. Ms. Husna and Ms. Sulabha further discussed the history of Women's struggles, the present day conflicts faced by women in the slums and how essential it is for women and children to take initiative themselves to make their surroundings safe.
It was heart-warming to see the child representatives from Child Resource Center and BASS play an active and vivacious role in the event, with Sagar Reddy, giving a warm welcoming speech and Shravani, expressing her opinions about the Women's Day. The other children too, actively participated in the discussion highlighting their issues and pointing out places in their slums which they find unsafe. Their zeal and enthusiasm in taking leadership makes the future light up in the glow of hope.
While the focus of the morning event lay in expression of ideas, views and spreading awareness, the evening was abuzz with light-hearted games at Lallubhai Compound. Participating in a wide range of games like musical chair, lemon and spoon, 50-60 women, from nearby slums, along with their children, took a brief respite from their busy lives and enjoyed the day in laughter and fun.
With your continued support and contribution, YUVA, will keep striving to spread more such smiles and achieve a child-friendly, violence-free, cognizant society.