International Women's Day
8th March, 2018
Ambujwadi
"Extremists have shown what frighten them the most: a girl with a book." – Malala Yousafzai, youngest Noble Peace Prize winner
To commemorate the International Women's Day on 8th March celebrating the cultural, political and social achievements of women the world over, a program was organized by the children and youth groups for the women in Ambujwadi. The International Women's day theme for 2018 was Press for Progress. The International community gave a call to press for gender parity and push forward for equality.
Bal Adhikar Sangarsh Sangatan (BASS) and Nakshatra girls group of Malwani Yuva Parishad jointly organized a half day program for the women of the community. Women's day cards were made and distributed to all the anganwadi teachers, parents and others. The hall was decorated with pictures of women Chawla, Medha Patkar, Indira Gandhi, Sania Mirza, Saina Nehwal, Rani Lakskmi Bai, Savitri Bai Phule and others. A description of each of them was written for all to read. The program commenced with a welcome address by Sumati from YUVA, who wished everyone a very happy Women's day.
Followed by this was a short health session by the doctors from KEM health post, who spoke about women's health and the importance for them to care for themselves first, in order to have a healthy family. They encouraged the women to think and aspire big, and told them that nothing can stop them from doing great things. A children's group performed a welcome dance in the form of a short enactment with a message of gender equality.
Girls and women were asked to share experiences from their lives when they had obstacles, yet managed to overcome them and achieve big things. A session of song and dance concluded the event and the message of women empowerment went home.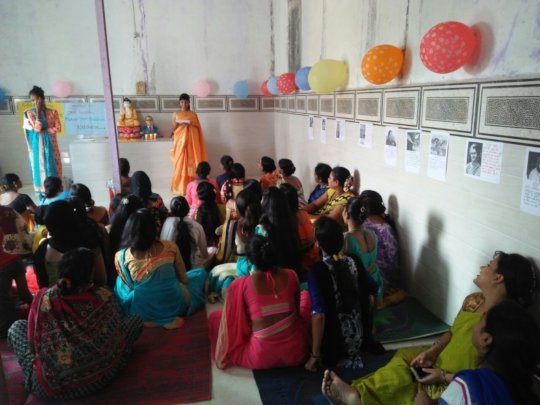 Just as we see in the international context, that children are dragged into military uses and in conflicts as child soldiers, locally, too, children face a many violations of their rights. These child soldiers do not have access to education, health care services and are victims of violence, abuse and exploitation. Similarly, other forms of child rights violations like employing children in labour, abusing them physically, emotionally and sexually, are prominent forms of distresses facing children and impinging upon their rights.
An eviction-prone area like Mankhurd, makes basic amenities and facilities like water, sanitation, education, health care fairly inaccessible, consequently accounting for a high number of malnourished children and youth. In this site of struggle, people have to work constantly to afford two meals a day. Due to thus, many children are employed in child labour which makes them school drop-outs, they take to addiction and gambling, and become vulnerable to abuse. All of these factors scar their formative years and rob them of opportunities for healthy growth and development.
The Red hand movement, while being a protest against the use of child soldiers, is also a symbolic fight against violations of child rights the world over. Right from the safeguarding the right to basic survival, to development, protection and effective participation of children, as per the Convention on the Rights of the Child, efforts are constantly made to create nurturing, conducive, resilient communities and sustainable environments to guarantee the fulfillment of human rights in every context.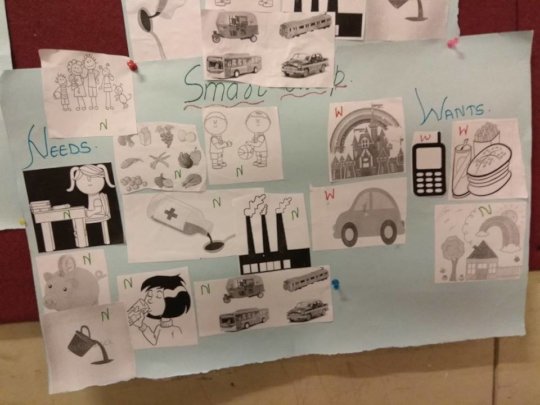 72.5% of the population living in M-east ward lives in slums. The ward has the lowest Human Development Index in the city. The ward not only houses various slums but is also home to resettlement colonies, comprising of people living in slums from different parts of the city who have been rehabilitated here.
Lallubhai Compound with a human density of 653 persons/acre is one such resettlement colony located in the M-east ward of the city. This colony is located near a garbage incinerator, slaughter house and an open drain surrounding the community.
The lack of basic amenities and unsanitary living conditions back the claim that such communities are invisible for the administration. Invisibility of such communities are an impediment in accessing rights by people living here.
Keeping this in mind it was felt necessary by YUVA to educate children about their rights mandated by the Convention on the Rights of the Child and guaranteed by the Constitution of India.
A workshop with 68 children (age group 12-16) from Lallubhai Compound was organised in this regards. During this workshop the children were informed of their rights as mandated by the Convention on the Rights of the Child. The rights mandated through 52 articles were divided into 4 rights i.e. Right to Survival; Right to Development; Right to Participation and Right to Protection.
Along with education the children about their rights the workshop also focused on government systems that are created for ensuring the deliverance of these rights to each and every child. Systems such as Childline, Child Welfare Committee, Juvenile Justice Board and laws drafted for protection of rights such as Right to Education.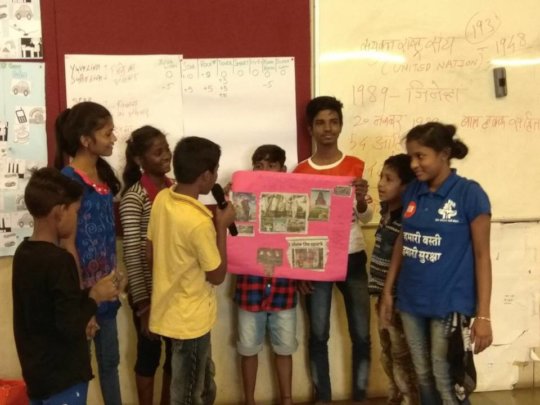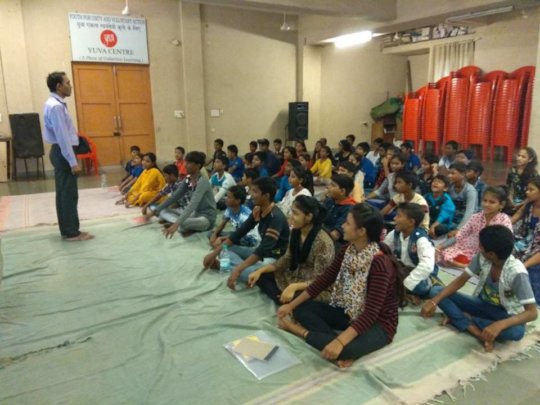 WARNING: Javascript is currently disabled or is not available in your browser. GlobalGiving makes extensive use of Javascript and will not function properly with Javascript disabled.
Please enable Javascript
and refresh this page.