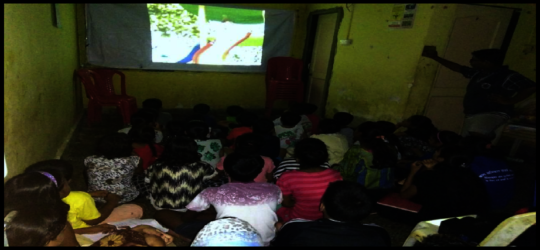 Movie Screening
Sunday, 8th July 2018
Screening I
3.00 PM- 4.30 PM Building No. 13- Wing A and B, Lallu Bhai Compound
The Bal Adhikar Sangrash Samiti (B.A.S.S.) members from Building No. 13- Wings A and B, organized a film screening session for the residents of their building on Sunday. Held at the Anganwadi centre, the entire session was an hour and a half long, where the children, parents and the society's committee members were invited. The movie, an awareness-building animation film called Tinku and Tina, talks about child sexual abuse by distinguishing between good, bad and concealed touch.
The event began with the welcoming of the audience and registration of the children, followed by which Mr. Prakash, the YUVA-CRC staff and B.A.S.S in-charge introduced the entire organization and the team to the audience. He spoke about YUVA as an organization, about CRC and B.A.S.S and then spoke about the objective of the screening. Further, the movie- Tinku and Tina was screened; which was attended by approximately 45 children, a parent representative and few of the society's committee members including the President, the Treasurer and the Vice-President.
Once the screening was over, Mr. Prakash welcome Mr. Vijay, the project coordinator- Children Protection Intervention at YUVA to initiate a dialogue on the theme of the movie and to assist the children in understanding better about safe and unsafe touch in specific and child sexual abuse in general. Mr. Vijay spoke about the increasing prevalence of CSA in the country, about how the perpetuator is most often someone known to the victim and then helped the children understand the difference between good, bad and concealed or inappropriate touch.
Soon after the discussion, those who had assisted in organizing of the screening were facilitated. The guests were welcomed to the front, including the President, Vice-President and the Treasurer of the housing society, Mr. Vijay, and one male and female representative from B.A.S.S. The society representatives were facilitated with flowers; posters related to child rights and protection as well as handouts talking about YUVA-CRC's works were shared with them.
Mr. Prakash then spoke about how this screening was one of a kind and how something like this has never been done before and this was the first step in involving the community in ensuring child protection and putting into action the slogan of B.A.S.S "Hinsamukt Surakshit Basti Ke Liye Bacchon Ke Saath Hum Bhi…" He then sought support from the parent representative and members of the housing society committee for creating child-safe spaces and creating Child Protection Committee based on the Maharashtra Government's Resolution. These guests then spoke for a few minutes each pledging their support. The session ended with a vote of thanks and distribution of snacks for the attendees.