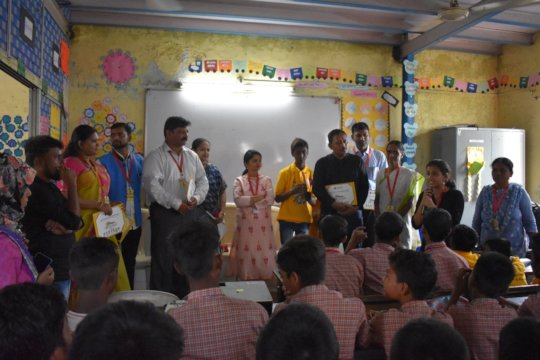 To commemorate UNCRC and popularize children's right to meaningful participation on the theme "Ensuring child rights with child participation", a child-led caravan traversed the city of Mumbai on 20th of November, the day when the UNCRC (United Nations Convention on the Rights of Children) was signed by 196 countries globally. We believe that children and young people can play a significant role as agents of transformation with the capability to engage in decision-making processes, in accordance with their evolving capacities and gradually increasing autonomy.
The Caravaners
35 Child leaders belonging to the Bal Adhikar Sangarsh Sangatan (BASS) at Mumbai City level traversed the city in the caravan reaching out to many more children, young people and adults, and also duty-bearers and people in the system namely- Corporators, railway police, government officials, etc. educating them about child rights and the power of child participation
The Caravan Journey:
Caravan launch with the Inauguration Event held at Gurukul school, Malwani, around 10.00 AM
Panel discussion with the duty-bearers: School principal Mr. Farid Shaikh, Community Development Officer Mr. Mahindra, Member of CPC and Anganwadi supervisor Ms. Shubhangi Rane, YUVA organization representative, member of Child Safety Support Forum and Women's Cell Ms. Parineeta, Journalist and Social Activist Mr. Nisar Ali, and Child Representatives from BASS Malwani- Sachin and Shivani- discussed their commitment to child rights and what they can do to ensure meaningful child participation in the system
In attendance were the students of classes 9 to 12 of Gurukul high school and junior college, YUVA staff, bass members, Anganwadi teachers. More than 100 students and children were present.
While addressing the school students the Mr. Mahindra shared his own journey of coming from BMC school and how he faced problems using English while speaking and how he preferred Marathi over English was humorous to learn about.
Pooja Yadav while answering the questions asked by a student present there - 1098
Children below 14 years old should not be allowed to work. As there are constitutional safeguards to protect their rights and it's a punishable offence to make them work in households and factories.
Every child is important and she enforced, "You all are change makers, you come ahead, you work for them (children). Then change can definitely happen in the society
Principal sir,
You all can teach students as giving examples of few who have taken the initiative to teach the students at their own homes. By calling children who are working in nearby hotels. And made them ready for basic education. Minimum literacy. He appreciated Maharashtra government where a student even if he's not going to school, he can directly appear for class 8th exams and will be eligible for board exams.
Out house schools: for the children who need to work so their houses have inflow of income to survive and sustain. So, it's not necessary that a student necessarily needs to go school so this option is available and can be promoted.
Also, he asked student, "Can you share your education?", as every time depending on government will not work. He strengthened his point by stating Malvani population which counts around 9 lacs. And for this large number police force of 1500-1600 should be there. but instead of that the number of police men in marginally low and is 140. It was understood that Manpower is low. Going for regular rounds, while on duty is challenging so you can't depend on government for everything and every time.
"You need to learn to come forward so that you can benefit the others as you are privileged but not all are. You need to demand for your needs then only it can be provided. Fight and get it. If you can fight you can survive. What you want to do fight for your rights? Or Accept your fate and be silent? And blame the government.
Further, Alicia substantiated Principal Sir's points by adding, "We need to support the system for the growth. Change can happen if we want"
After the formal discussion Chief guests were felicitated by giving roses and Sumati tai gave certificate of commitment to the guests who were there to attend the Inaugural discussion. Tai was glad that the knowledge which we got was immense from everyone who came and like always powerfully propagated:
"Bal shakti aayi hai.. Nayii roshi aayi hai.. Ladenge.. Jitengee…"
Women's cell counselor was called on stage and Nisaar sir told students, "utilize time on sports for physical and mental wellbeing."
With this the opening session got over and Alicia requested everyone to move towards the road where the Caravan flag was waiting to be waved. Teachers along with Principal Sir came forth and everyone was led by Zarin and Bala where the bus was on hault.