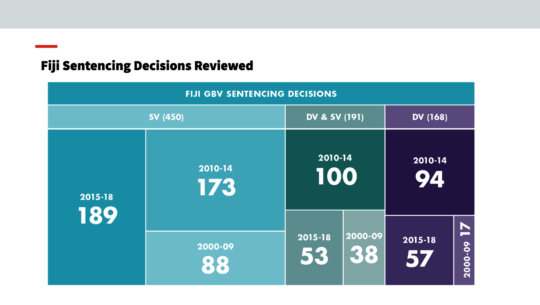 Dashboard Testing
Over the past month, we began beta testing our data analytics dashboard, which will soon be publicly available and populated with data from over 5,000 GBV cases from 12 Pacific countries. At the moment, we are conducting user research and iterating the design and features with our team and partner organizations, to ensure advocates are able to benefit from using data in their efforts for gender equity and access to justice.
TrackGBV at the Fiji Women's Law Association Continuing Legal Education Workshop
On February 10th, we presented virtually at a panel workshop run by the Fiji Women's Law Association and Fiji Women's Rights Movement on gender stereotypes in sexual offence cases. The discussion focused on some of the persistent challenges in gender-based violence (GBV) cases in Fijian courts including victim-blaming and judicial stereotyping as well as the progress made to date. We shared our latest TrackGBV data for Fiji including the prevalence of contentious factors like gender stereotypes in cases and change over time.
Looking at Fiji, we see major strides taken over the last decade or so including new legislation in 2009, directives aimed at improving equity in GBV cases in 2018, and judicial training. Fiji also makes publicly available the highest percentage of case law related to GBV in the region which is a great first step towards transparency and accountability. For the TrackGBV program, this means that we were able to analyze 809 GBV cases from the magistrate courts, High Court, Supreme Court, and Court of Appeals, from 2000-2018.
To see the latest data from Fiji, check out our Comparative Report on the Impact of Gender Stereotyping on Judicial Decisions in Violence Against Women Cases Across the Pacific Islands Region.
Preliminary Samoa Data
As we've shared before, we will be running our Train the Trainers program with the Samoa Ministry of Justice later this year. As a part of this training, we are collating the data from 282 gender-based violence cases from Samoa over the period of 2000-2020. This week, we completed pieces of the preliminary analysis which we can share here. This type of data will soon be available for all 12 Pacific countries on our data analytics dashboard.
First-time Offender Status
We found a higher rate of the inappropriate use of first-time offender status where credible testimony, medical evidence, or police reports indicated past evidence of violence, even if there was no previous conviction. In cases between 2000-2012, first-time offender status was misapplied in 13.9% of cases, and between 2013-2020, it was misapplied in 20% of cases.
Medical Reports
The importance of medical reports in GBV cases cannot be understated and goes directly to preserving evidence of the severity of a crime, which would likely influence sentencing outcomes. Medical reports were only used in 32.3% of cases overall, and only 28.9% of sexual violence cases.
While we have yet to compile the data on contentious factors which point to gender bias and discrimination, the preliminary data indicates that there will be much to share with the Samoa Ministry of Justice to improve accountability and access to justice.