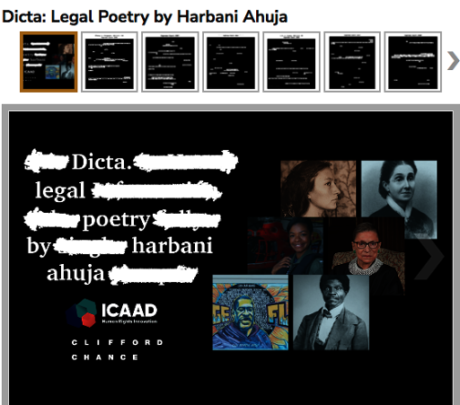 We have many exciting updates to share around the Artivism program and ICAAD's release of Dicta, Artivist-in-Residence Harbani Kaur Ahuja's new exhibition.
The first 10 poems of Dicta received an excellent reception through their release via the ABA Journal over the past three months. The ABA Journal is one of the most widely read legal publications in the U.S. and in addition to the release of the gallery, an article was published on Harbani and her work.
Harbani was also featured on the Legal Talk Today Podcast. Listen to Harbani's interview with Laurence Colletti; she reads LA v. Lyons and shares what the piece means to her and her process in creating Dicta. Click here to listen.
Harbani was also interviewed for Law360 Pulse. In the article, you can read about how poetry influences her work as an attorney and get a preview of one of the poems from the next Women's Rights series: Walmart v. Dukes. Check it out here.
We also have four blogs inspired by Dicta that were published over the past three months. One, written by two Masters students at Columbia University focuses on Racial Equity in NYC Public Schools.
The second and third articles are a two-part series entitled "Police Cannot Police Themselves." And the fourth is a case study on the Supreme Court's impact in relation to a case on racial justice in employment law. You can read those four blogs on ICAAD's Ideas blog.
What's on the horizon for Dicta?
We have partnered with Y'all, a creative design firm, to develop and launch an immersive virtual exhibit for Dicta on International Human Rights Day, December 10th. Mark your calendars and stay tuned for the rollout of the Women's Rights Dicta series.
We've also opened a call for applications to invite the next cohort of Artivists-in-Residence.
With your support, we'll be able to bring on more artivists next year and launch even more exhibits that educate people on human rights and inspire them to activism by moving them from the heart.
Thank you for your continued support!