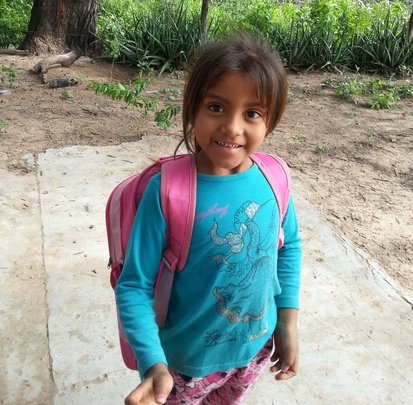 3 days before the end of the GlobalGiving Open Challenge, we want to thank every person who believe in our cause and invest it in our project.
We've already reached our first goal, getting 40 willing people who supported us. Actually, we got more! We are also very close to touch our second goal, raising 5.000 dollars.
Yamila, pictured here, is an eight-year-old girl who will benefit from the activities offered by the project. Her family includes herself, her parents, three siblings and one sister-in-law. Her mother is a housewife and her father is a farmer. Due to the typical severe drought of the region, farming isn't a stable income source and Yamila's family can't afford basic needs.
Yamila is the youngest of her family; her three siblings are respectively 13h, 11 and 9 years old. She attends to the second year of the elementary school and she is a good student. She never forgets to do her homework and she's very careful and precise during classes. Despite of her behaviour, she shows signs of poor nutrition, such as fatigue, lack of concentration and health disease. Last year, she almost repeated grade because she missed too many days of school.
The project team met Yamila when conducting a survey in her school. The Asociacion Cultural para el Desarrollo Integral has a long term adoption program called Padrinos Solidarios in the institution and Yamila offered herself to help prepare some activities and games. She was very curious of each detail, a good observer. Once lunch was ready, she helped her teacher to share some "guiso" to each one of her school mates. Every day, the students receive the same meal, a traditional rice dish based on corn, which is normally cooked by one of the mothers of the village.
In rural schools, grades are mixed up and Yamila courses with some children that are one year younger than her and some others that are two or three years holders. Teachers have a very hard job, but they tackle reality with a smile on their face, day by day. Their dedication is admirable and it's one of the reasons why ACDI decided to support their cause.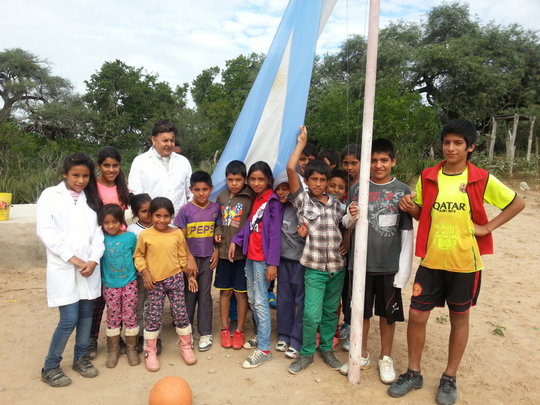 Links: