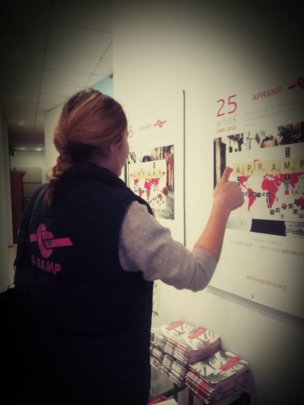 Once again, we here at APRAMP, have the pleasure to update all of you, our generous donors, on the work we have been doing over the past 3 months and share with you the impact your support has had on the actual lives of women and girls who have suffered severe trauma. While these individuals have had extremely rough circumstances, YOU have helped transform them into SURVIVORS who are beginning a NEW life FREE of exploitation.
Our team at APRAMP is tremendously grateful for all of the support you all have shown over the past 3 months. Since our last report in October, we have raised an astounding $3,763.86. This is BY FAR more than we have ever received during the three month periods. This money has changed our work in ways you may not be able to imagine.
Due to the immense success in fundraising in the last period, APRAMP's Rescue Mobile Unit, the group of recovered sex trafficking victims who have chosen and been trained to detect, identify and rescue others CURRENTLY being trafficking or exploited, has grown very quickly! The money raised has allowed us to finish the training process with 4 survivors and begin training with 3 victims who are currently receiving care from APRAMP and who are living in its protective housing and rehabilitation center.
We now have SEVEN new faces in the office – faces that have gone from emitting pain and sadness, to emitting hope and joy. The role these women play in APRAMP, as part of the Mobile Rescue Unit, is life-changing both for them and for the hundreds of girls and women who they will come into contact with on a DAILY basis, helping them to understand there is a way out.
One of our staff, who has witnessed first-hand the recovery process of all of these 7 new members of the Mobile Rescue Unit shared:
"Wow. I am truly in awe. It is incredible to see the changes in each and every one of these brave women. Seeing how their demeanor and personality change from the time they enter into contact with APRAMP until their incorporation into the Mobile Rescue Unit, it is as though they are almost two different people. It gives me pure joy to see how far each of them has come; it is actually my motivation. It is what keeps me going, and what gives me the fuel to continue working with such a heavy issue. A survivor's smile released after so many years filled with fear, sadness and pain is one of the most precious sites I've ever seen".
On behalf of all of the survivors who now can enjoy all of their rights, I say, thank you for your financial support. We greatly appreciate your donation and willingness to help support our project. Please pass on the information of the website: globalgiving.org, Project "Rescue and Empower Sex trafficking survivor". We really want to reach our financial goal so we can continue to help change lives!
Again, we cannot say it enough...THANK YOU!!