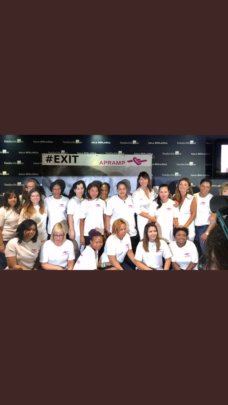 Greetings old and new donors!
Here we are, once more, getting to share with all of you what APRAMP has been up to over the past 3 months through the project, Rescue and Empower Sex Trafficking Victims, which you all have contributed to. It's so important to reiterate how grateful we are for your support but, most of all, how grateful the victims and survivors are for your generous donations. Each and every individual impacted by this project is able to begin a new life, and that is not a small thing for them.
The women and girls who APRAMP reaches have suffered in ways you could not and do not want to imagine. Sexually-exploited, physically and psychologically abused, forced to prostitute themselves long hours without a break or a day off, exposed to harsh rituals requiring them to pay a debt of over 50,000.00€, which in reality, never ends…The list goes on.
HOWEVER, because of YOUR help, these individuals have the chance to have a new life COMPLETELY FREE of exploitation, abuse, threats, and violence. Now, they have the chance to grow, receive education and professional training, and go after the dream they hoped to achieve making the initial decision to come to Europe.
In the last report, I mentioned 2 new underage girls who had recently been taken in by APRAMP after being rescued from their situation of human trafficking. Well, I am so happy to report that one of them has truly flourished in the last 3 months, and has expressed her interest in being part of the project and being trained as a social and cultural mediator. She said,
"I really want to help other girls and women who went through what I went through. They should know there is a way out, and I want to be the one to let them know!"
So, of course, she has begun the training program to learn how to rescue and empower other victims of human trafficking and sexual exploitation!
We are so excited that she has taken the initiative and that she desires to help. She is a very smart young woman (she turned 18 in September!), and will be a very important member of the Rescue Mobile Unit. Of course, she is still in her own process of recovery. However, she is advancing quite rapidly, and her studies and training will be included in part of her process as she becomes more autonomous and ready for full insertion into the workforce.
That said, once again, on behalf of all of APRAMP and all of the women and girls we are able to help through the Mobile Rescue Unit and through this project, thank you for your financial support. Your donation is giving this young woman, and others, the materials she needs to receive the proper preparation and training so she can help rescue other women and girls suffering exploitation.
Never forget the importance of your financial support, and please help us to spread the work and keep raising money. Every dollar donated goes directly towards fulfilling the dreams of a beautiful girl or young woman.
On another note, check out our new campaign we launched in September, called #Exit. Survivors speak out about their experiences and the need for real opportunities. Here's the version with English subtitles: https://www.youtube.com/watch?v=bU7bs00YvV0&t=15s
THANK YOU!!!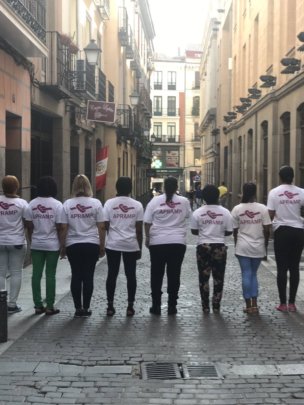 Links: