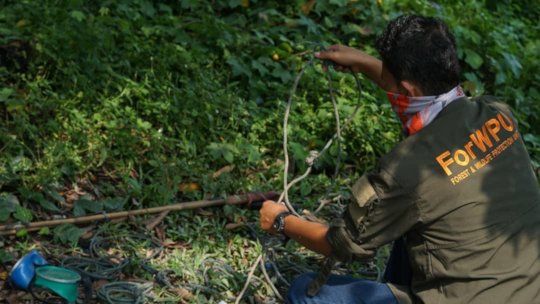 Despite the challenges presented by the COVID19 pandemic, the patrol teams managed to achieve a lot last year. Covering the Leuser and West Toba landscapes, they walked a total of 1,288km to protect 35,667 hectares of rainforest and its inhabitants.
Each patrol normally takes ten days of walking through deep forest, documenting biodiversity, wildlife and topography alongside any signs of threats to wildlife - logged trees, burnt patches of forest, snares or traps. This information is fed back to law enforcement authorities to assist their work in investigating the perpetrators of wildlife crime. In 2020, the patrol team provided data to help prosecutors in seven different cases - an amazing achievement in protecting Sumatra's forests and wild animals.
Thank you for continuing to walk alongside the patrol team as they carry out this challenging work.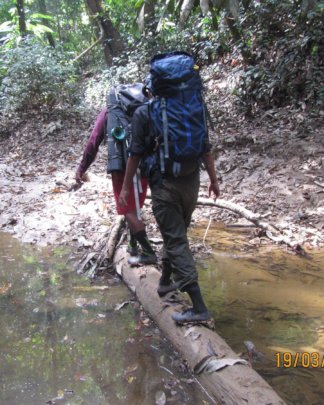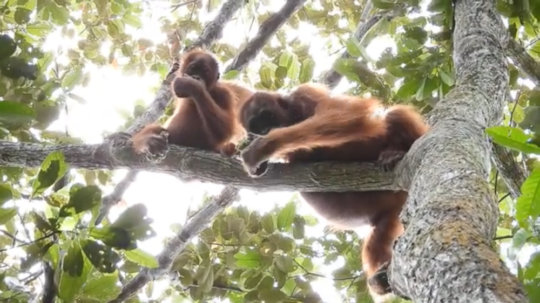 Cinta Raja III is one of the restoration sites we support in Sumatra's Leuser Ecosystem. It has been under the care of the restoration team since 2018 and is flourishing. Just a few years ago, Cinta Raja was bare and quiet, with a few stumps of oil palm trees and some tough grasses pushing through the depleted soil, but recently, Restoration Manager Rio Ardi spotted a female orangutan and her baby at the site, enjoying some fruit in one of the trees above him as he walked through one of the replanted areas.
The arrival of these orangutans is testament to the amazing work the restoration team does to restore orangutan habitat. It is also testament to the incredible support we get from donors like you, without whom we couldn't keep these projects running.
I hope the video at the link below makes you as happy as it made us!
Thank you for your continued support.
Links: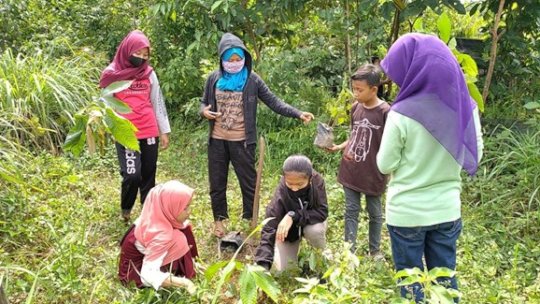 One of Leuser Nature School's mottos is "One student, one tree," which means each student has to plant one tree near the beginning of their time at the school and remain responsible for the tree during the rest of their time there.
In previous years, the teachershave demonstrated how to plant the trees, covering everything from preparing seedlings to planting them out and maintaining them as they grow. In November 2020, for the first time, the school's senior pupils (grade 9) were given responsibility for guiding the grade 7 students to plant their trees in their second month at the school.
The grade 9 students helped the grade 7 students prepare and plant their trees, and also showed them how to document the process and keep records to enable them to monitor how well their trees grow - all part of the school's drive to build leadership and responsibility through practical activities.
The trees have now been in the ground for over a month and are growing steadily alongside the school community. Thank you for supporting this work - we hope it inspires as much hope in you as it does in us.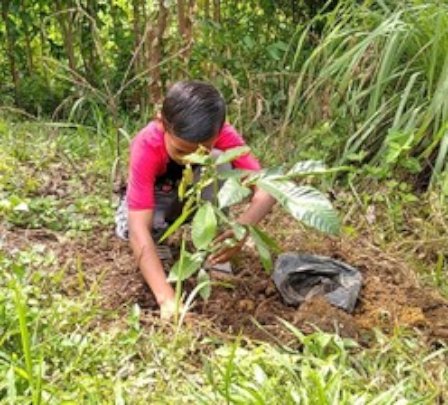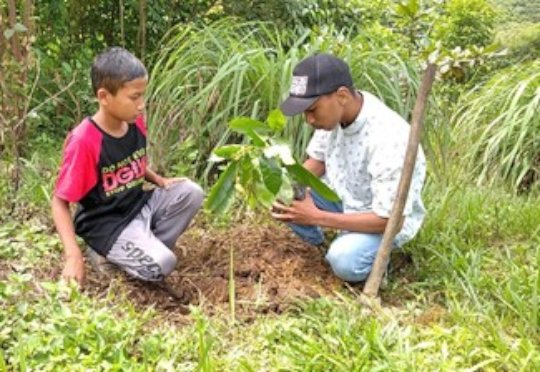 Links:
WARNING: Javascript is currently disabled or is not available in your browser. GlobalGiving makes extensive use of Javascript and will not function properly with Javascript disabled.
Please enable Javascript
and refresh this page.