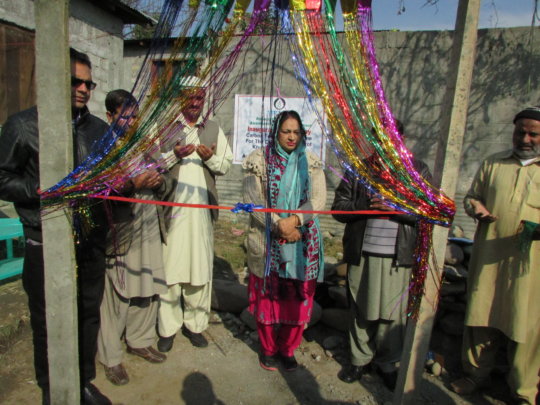 AWARD Pakistan has taken an initiative to start raising funds for the installation of hand pumps and water wells. In its first phase, 3 water wells and 1 hand pump will be installed in the 4 out of 6 rural areas of Balakot, District Mansehra, Khyber Pakhtunkhaw with the support of the local community. So far 3 water wells and 1 water hand-pump has been successfully installed and rest are under development. It is been found with the study that the water wells are much more effective than the hand pumps as it provides more amount of water than an average hand pump. Therefore due to the requests from the people AWARD Pakistan installed 3 water wells in the 3 areas of Balakot.
AWARD Pakistan's team which included (Executive Director, Program Director, Admin Manager and Finance Manager) visited the areas and inaugurated the water schemes in 2 of the areas (Jageer and Grang Maidaan). The communities were excited and they welcomed the team enthusiastically. The communities thanked AWARD Pakistan for their efforts and support and promised to protect the project at every cost. The areas also selected two committees to monitor the project and also to be responsible in case of any maintenance.
One of the beneficiaries presented his views as "We had a severe problem of clean water. Our children were affected with the dirty water very much. We found our hope in AWARD Pakistan and we pray for them as they have saved us from the dieases".
It is also to be mentioned that an average cost of digging water well and installing a hand pump on mountainous area is 5 to 6 times higher than an average installation in Punjab and other plain areas of Pakistan.
APPEAL:
We request all our donors and supporters to support us in the cause to provide children and women (living on the mountains), an access to the carbon-free water.