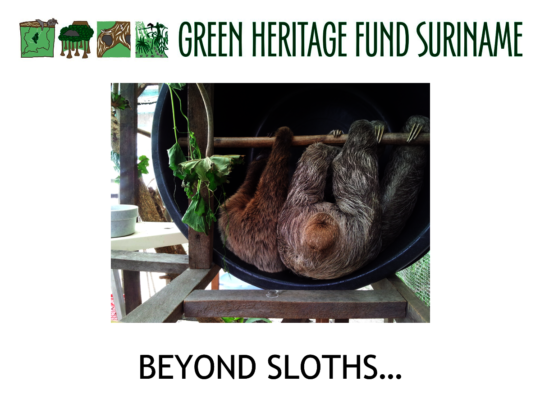 We created this project on Global Giving when we first joined, because this is what we do, we help sloths return to where they belong in the forest. We mostly pick these animals up from locations in the city, in someone's garden, on their fence, hanging in the burglar bars, sometimes inside a house and sometimes hanging from the roof. Since I started doing rescues in 2005, I have seen many strange situations, but a recent rescue must have been the strangest one since I started. A sloth named Cliff found itself in a very uncomfortable situation hanging from a pole in the Suriname River. For those of you wondering how we knew its name was Cliff, we didn't. We gave him the name when we saw in which situation he found himself. As I am still not allowed to push, pull, carry or lift, I am always accompanied by a volunteer who can; in this case George, who is our scientific advisor, who was visiting from abroad to continue the work we started doing since we co-authored "Sloths in the City". You can read and see more about the rescue of Cliff on our website.
So what is changing?
We want to change this project "Sanctuary helps Suriname's sloths back to jungle"by either retiring it because it is almost fully funded, and adding some of its components to our other project "Sloth Sanctuary Suriname sequel: the whole story!" and start a completely new education and research project, or rewrite the current project to reflect the change in our activities. This will most likely be done in the coming months, because we need to formulate this new project and properly reflect what we do under our education and research program. For those of you who know us already and look from time to time also on our website, you know, that Green Heritage Fund Suriname is more than only sloths (and anteaters for that matter). We also work on dolphins and the marine environment and do a lot of educational work (both formal and informal).
Information Center on Xenarthra
Now that through the help also of our partner Welttierschutzgesellschaft e.V. (WTG) we were able to secure more land and construct our new storage area, which meant retiring the old timber shed that was becoming dangerously obsolete, we can start focusing more on fundraising for education. We want to set up a large information center that in a nutshell will highlight the importance of the forest habitat for the Xenarthra, will explain how climate change will affect them, and will highlight the importance of Indigenous people in shaping the Amazonian forests (in case you are interested in more detailed information please email us). It will also tell the story of this uniquely South American group of animals since prehistorical times. And yes, I know, one species managed to cross over to North America, so definitely a unique American species group. In addition, this center will have several labs for children where they can learn more about the environment and our planet through their own observations and research. This is part of our GLOBE work, which is the largest science-education effort in the world, with 121 countries participating.
Research on Urban Forest Fragments
As part of this educational and research effort and the work undertaken with George Middendorf, we want start working on the urban forest fragments, because the sloths appear to be definitely urbanophilic animals. By doing this research we hope to secure their habitat in the urban space and will work towards four different aims and objectives.
1. promote the continued existence of viable coastal sloth populations in the wild in Greater Paramaribo;
2. prevent the decline of coastal sloth habitats, among others, by providing for the rehabilitation of cleared or otherwise disturbed sloth habitats in Greater Paramaribo;
3. promote future land use and development that is compatible with the survival of coastal sloth populations in Greater Paramaribo; and
4. providing policy direction and management approaches to address key threatening processes.
How to achieve these goals?
We have outlined our work already and it will focus on five areas. First, we need to cover the scientific basics, by conducting research and conservation. This will include a conservation genetic analysis, geographical analysis, ecological analysis of forest fragments, a biological analysis, and of course rehabilitation and shelter. The second area is legislation and policy-makers, where we will analyse the legal framework and work on improving the stakeholders network. Thirdly, we need communications, for strengthening of lines of communication and the diffusion of information, we need communication strategies to allow the general public to get closer to sloths, and we need communication as a tool to diminish threats. The fourth area will focus on education and community participation, which will include education and community participation. And the fifth area will focus on administration and institutional strengthening, bringing together decisionmakers and local stakeholders. This is all closely related to what normally happens around species action planning. And as you already heard from us, the Sloth Action Plan, was part of our current and future activities. We are in now really in the preparation phase.
What do we want from you?
We would like to know how you as our donors for many many years feel about this change. What are your thoughts, how do you see this affecting your involvement with our work. Does this sound to you like the right way to focus our activities in. Please do share your ideas, feelings, thoughts with us, you can do that by providing feedback below when you rate this report. Thank you for any of your inputs and support so far. We look forward to hear from you.