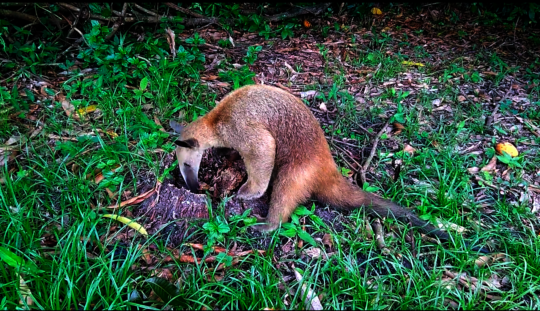 In our last report, we gave a broad overview of the happenings of the dry months that started out our year, and the many, many rescues we did. After that incredibly busy time, we had a short period of no rescues, just caring for the animals that are at the center. And then we started again on our usual schedule of an animal or two a week. Mostly sloths, and for the past two weeks, from one specific location around Lelydorp. Last Wednesday, we had a total of five animals, so the bus was stacked full with passengers looking for a better life in the forest. One of the animals was Frankie, an anteater that had stayed with us for almost 2 weeks.
Frankie was found by a good soul on a road around 80 km outside of Paramaribo, in the District of Brokopondo. And she had apparently been hit by a car, but was not dead. She arrived at our offices the next day, and appeared to be in a state of shock and weakness. When we took her to the vet, she had regained already some of her strength, and was mainly defensive. That was not making it easier for us to examine her. So the vet was going to come by the next day, when she was a little bit more settled in and no longer so scared of us. Frankie slept a lot, which is good when you have a bad headache, and when the vet visited, she was not as restless. However, we did find that she had a parasite in her foot and in her digestive system.
To treat her, we would have to give her either medicines by injection or through her food. Neither one was easy. After four days, she started to eat the food, instead of just stepping on it and in it. And then something pretty amazing happened. As I was preparing her food, I heard a snort. I was not sure whether Frankie was doing that, but for sure, when she saw me with the food, she did it again. Frankie was talking to me! She actually had gotten the taste of the food, and now was instructing me to make a bit more haste. It never ceases to amaze me how these completely wild animals connect with us, interact with us, and cease any defensive behavior. Once they understand that you are helping them, they start to direct us and indicate what they need.
Frankie stayed with us for a bit longer than normal, because we felt that we had to give her a good start. She really enjoyed all the food we gave her, from frozen termites nests to yoghurt with supplements. And when we let her go, she left at ease, she immediately started to check out her surroundings.
On the 9thof July we started to paint an educational mural with a student group from Tulane University. The design was made by a well-known Surinamese artist and the animals we worked with were displayed in their actual sizes next to each other, so we can provide people a sense of the difference in sizes of the sloths, anteaters and armadillos we work with. We did see Ostrich around in the trees surrounding the center, but we did not see 19November. We continued the work on the mural over several weekends with other volunteers and we hope to finish it by the end of August.
Then my sloth friend 19November surprised us a few days later, when she showed up again, showing off her new baby. We decided to call it 9July, because we all had the feeling it was 19November showing us that she also could create something.
With your support, we continue to care for sloth and anteaters in trouble. We make daily efforts to improve the circumstances under which we rescue, rehabilitate and release the animals, ensuring their individual well-being one at a time.