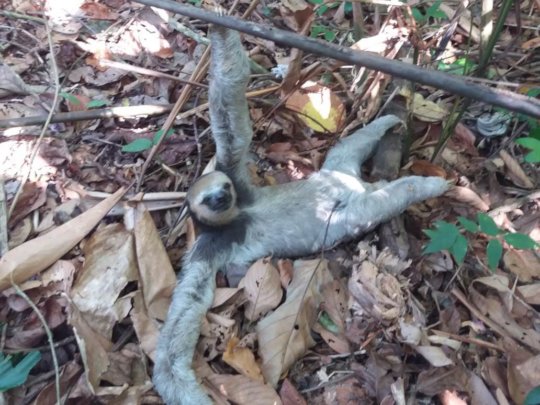 In the past months we have been busy working on renovating not only enclosures for the animals, but also on the sleeping quarters of the staff at the rehabilitation center. As the permanent workers were both on a holiday, we decided to paint their sleeping quarters which were still in the dark brown color of the primer paint. The walls of the shipping containers were also difficult to clean because of the coarse primer layer, and the already small rooms were also seemingly smaller because of this dark color. Adding a layer of white paint to these walls, made them optically bigger. The white paint was reflecting the light of the lamps, creating more light in the rooms making it easier to read and see better in the rooms. After all, if we want to have happy animals, we have to ensure that the people caring for them are also happy. In this manner we wanted to show also how much we appreciate the hard work of the center staff who are caring 24/7 for the animals in our care, but also for the animals living in the forest surrounding us.
And this brings us to a special story about our three-fingered sloth friend 19November and her baby 9July. At the end of September, while the center staff was preparing to go to bed after a long day, Yvonne suddenly heard something in the forest. It was already around midnight, but she heard the call of a baby sloth. Intuitively, Yvonne felt it had to be 9July. Together with Patrick she ventured out into the forest in the dark and after searching for a while they found a baby sloth on the ground. 9July had fallen off her mother. Yvonne and Patrick brought the baby to the center, kept it warm, gave it food and for our records also weighed it. While she reported to us about this, all of us were worried. What had happened? Where was 19November? Did we want to care for a three-month old baby? Or had we rather that her mother was fine and took 9July back. For those of you who know us, the answer was a definite "we want her to be back with her mom!"
The next morning, Yvonne went back into the forest around our center and started looking for 19November and was calling her. Let me remind you, this was a sloth that had lived in my house in the city for 5 years, and she knew who we are, at least we like to think that. And lo and behold, 19November was aware of us, and started to climb down. While doing so, maybe as she was also anxious about her baby, as she had almost reached the ground, she grabbed on to a liana that was not strong and came falling to the ground. Fortunately, it was not a fall from very high. Yvonne picked her up and gave 9July back to her mother. And off they went into the trees again.
We have seen them regularly together since. And my impression is that 19November is even staying closer to the center. Maybe she knows that we will help her, if her baby is in trouble again.
With Thanksgiving around the corner, we wish to thank YOU for the support you give to us. As a result of your donations we can provide good care for our animals and for the staff taking care of them 24/7. We hope we can count on your support on Giving Tuesday, on the 3rd of December.