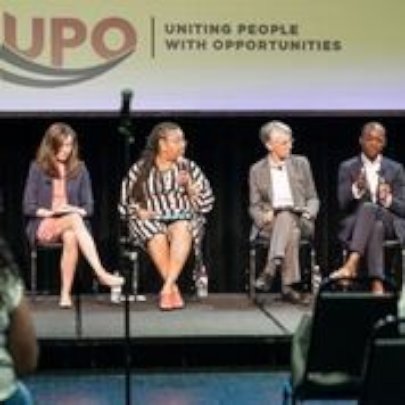 Since May 2019, UPO has formally expanded services to provide affordable housing units in DC. UPO is striving to meet the needs of DC's most vulnerable and underserved families, homeless families and individuals and provide them with stability, self-sufficiency and housing. We are partnering with top development firms to produce high-quality affordable rentals homes and supportive services for the lowest income residents We are also assisting with providing and expanding other housing services through our Accessory Dwelling Unit (ADU) Initiative and extended Resident Services where we encourage community engagement, education, employment and family wellness to other partner properties. The goal is to deliver 500 units in 5 years. For the immediate future we are producing 178 high-quality affordable rental homes with supportive services and also supporting the Accessory Dwelling Unit (ADU) Initiative. See attached picture "UPO Launches Affordable Housing Program"
UPO's mission is Uniting People with Opportunities. As the designated community action agency for DC, UPO serves DC homeless through our programs. The Office of Early Learning provides children of homeless families with free education and family support. Adult Education & Training, Building Careers Academy and Workforce Development provide free job training. The establishment of Affordable Housing Division will provide an essential additional option in our services provided to the 6,500 DC homeless Shelter Hotline currently serves.
We hope you and your loved ones had a wonderful Thanksgiving. The holiday season is upon us, gatherings with family and friends in our warm homes. Please give a thought to the unfortunate homeless folk as we enter the holiday season. Hypothermia alerts, inclement weather, transportation to shelters. UPO Shelter Hotline vans transported 186,416 people to shelter last year. As we help the homeless to self-sufficiency, we believe that they deserve the decency of basic comfort items that we can take for granted. Help us raise money for comfort items for the homeless people we assist, from feminine items to care packages, water, food trays and protective clothing we distribute when we transport them to shelters.
Tuesday December 3rd is #GivingTuesday, a National Day of Giving, you have the opportunity to make a meaningful gift to a wonderful program that benefits the unfortunate homeless population of Washington, DC. Global Giving is offering a $500,000 Incentive Fund and many other prizes on #GivingTuesday.
GlobalGiving's 2019 #GivingTuesday Campaign will begin Dec.3, 2019, at 12:00.01 am and end at 23:59:59 pm on Dec.3, 2019.
Please join us and make your #GivingTuesday gift to Help UPO Help the DC Homeless to fully fund the much needed care packages, water, food trays and protective clothing we distribute, so greatly appreciated by our Homeless DC residents when we transport them to shelters.