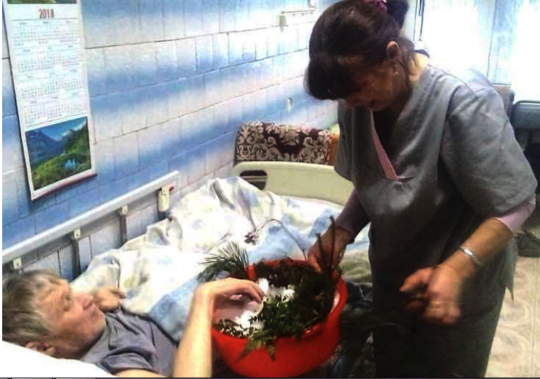 We have collected some meaningful spring stories made possible by donations, your care and attention we receive through this project.
Snow Delivery
In the last days of winter, our care workers in the gerontological centre in Tver brought snow into their bedridden patients' rooms. People enjoyed the sight and touch of it, some rubbing it into their faces, others making snowballs.
One of the female residents asked the care workers to do something similar again someday in the future. Because it is not the actual delivery of snow that makes people feel better, but rather the fact that the nurses care enough to enjoy simple things together with their patients.
Power of Art
In March Nina, an event manager we hired for the care home in Velikiye Luki, organised a drawing workshop. All the participants learnt new watercolour techniques and enhanced their emotional well-being. Their works of art will be exhibited in their rooms as well as in the halls of the care home.
Meanwhile, in Tovarkovo care home residents worked on Easter eggs of clay, plasticine and salty dough. Those handmade items were also exhibited as a reminder of how much pleasure people derived from the process of creating them. The workshop was organised by the people whose wages are paid from what we raise through this project.
During art therapy sessions and different workshops, elderly people get a chance to express themselves freely while surrounded by care and understanding. It is exactly what they need now, as quality day-to-day care is gradually becoming the standard.
Birthday Cake
Faina I. is a resident in the care home of Rzhev. There she met Anatoly P. who became her friend, always ready to talk and help with a piece of advice.
In March Anatoly P. turned 75 and Faina I. decided to make a birthday present for him. She had many options in mind and asked our care workers for help. The nurses suggested a birthday cake.
As handmade presents are always the best ones, Faina I. with the help of the care workers baked and decorated a birthday cake for her friend! Accompanied with a song and a simple miracle of a friend's love, the cake turned out to be the best present for Anatoly P..


Into the Space
On April 12 the residents of the gerontological centre in Tver celebrated the Space Exploration Day dedicated to the anniversary of Yuri Gagarin's space mission. The event manager we hired for the centre, organised a lecture on Yuri Gagarin and the Soviet space programme followed by a quiz on the universe and space exploration. Galina, the event manager, admits, "The participants remember a lot of details which were in the newspapers or on TV at the time. For example, they told me how worried people were about Yuri Gagarin, how some of them secretly prayed for him to return to Earth alive".
The space was also a topic of an art therapy session. The pictures and small-scale sculptures made up a mini-exhibition.
Victory Day
Victory Day is one of the most important holidays for the elderly people in Russia, although the actual veterans of WW2, of course, are now rare among the residents of care homes. On May 9 volunteers visit care homes with concerts, sing war time songs and listen to those who wish to share the memories about their parents who fought or worked hard during the war and their own childhood in the 1940s.
These are the stories we would like to share most but there are many more stories of simple things like breathing fresh air made possible by your donations. Unfortunately, regular care home staff don't have enough time to help everyone get dressed and seated in a wheelchair, not speaking of assisting people with getting out and accompanying them (for many cannot turn the wheels themselves and need help especially on bumpy roads). Even the very wheelchairs which can be used outdoors were bought with the donations because those provided by the state cannot last for more than two years and do not suit the outdoor conditions. You give elderly people a chance to enjoy fresh air and other simple things which only seem insignificant but in fact, shape what we call happiness. We thank you most sincerely for your help.