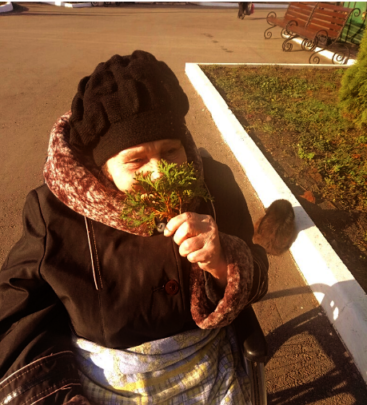 We are happy to take a chance and thank you for all those true New Year and Christmas miracles for us and – what's more important – for thousands of elderly people living all over Russia, with everyday care, understanding and dignity!
With your support not only did we manage to bring joy and happiness into elder people's everyday life (which is already quite a thing!), but also proved the idea that professional care is essential for any person, whatever the age and life circumstances, on the highest governmental level in our country. It's a historical breakthrough, and it would have never happened without your consciousness and kindness.
This shift in minds of the authorities resulted in a number of regions hiring our staff members, who we had found, educated and supported with the help of donations. The local staffing norms in care homes have been officially extended, so now the care workers don't have to worry about continuing in their working places in the future.
Nevertheless a few regions, where the authorities had previously promised to hire our employees (care workers, event managers, physical and occupational therapists) and pay their wages, turned out to be financially incapable of keeping the promise. Unfortunately, they refused to pay salaries to already hired staff members. We couldn't do the same to the residents of the care homes, who already got used to positive changes in their lifestyle, care and attention as part of their daily routine and, most importantly, established personal relationships with carers.
So for an uncertain time we're going to continue supporting and paying the care workers on our own. That is why we have doubled the financial goal of our project up to $180,000. We hope that together we can help preserve the quality of life of elderly people in regional care homes and — in the shortest time possible — find a way to ensure the future of care professionals we have prepared, also thanks to your help and understanding.
As usual, we are sharing some stories from the lives of people we care about with your generous help. A glimpse into what small, yet significant changes look like.
The smell of pines
Tatiana has been living in Odoev nursing home for quite a while now. She came there after a stroke, remained silent and withdrawn for some time, refused to get out for walks with our care workers. Last year she broke a leg and was laid up for a short while. By November, however, Tatiana was on the mend: she could sit straight in her bed and do simple exercises like doing jigsaw puzzles to improve hand motor skills.
At the beginning of winter, taking a chance on sunny weather, one of our care workers, Oksana, did her best to talk Tatiana into a short trip round the nursing home yard. Easier said than done, but finally they managed to get outside. None of them could foresee what happened next. Tatiana looked around with delight, she was pleased by the fir and pine trees growing in the yard. She asked to snap off a small pine branch, held it her face and remained like this for a long time, enjoying the smell of fresh pine needles. Tatiana then made a resolution to go for a walk every day, rain or shine. And it is your help that made it possible. Right now Tatiana and Oksana may be walking in the yard and catching big fluffy snowflakes, enjoying the view of the pines covered in slowly melting snow.
Talent show
We have most probably mentioned the outstanding residents of the Rzhev care home for the elderly and disabled. Each year they keep surprising us with their art works, music and dance performances, full of life, enthusiasm and energy. In December'18 they decided to launch a real talent show (following the famous Russian TV show "Hello, we're looking for talents!") with participants, judges and viewers. As a side note, competitions are particularly rewarding for the elderly people, who feel their skills, competences, experience and charisma are worth a fair contest.
The staff of the care home took part as well and presented their works and shows to the judges. The nominations included carving, knitting, embroidery, pottery, poetry, singing, playing favourite pieces of music and many more. Even residents with severely restricted mobility managed to prepare some songs with the help of our care worker, Tanya.
Years ago, without your contribution and kind help all of this would have been absolutely impossible!
New Year Decorations
Care home residents have a lot of time to spare. But with additional staff to provide for their leisure and cultural needs, they don't have to be bored anymore. Especially, at the end of December when the New Year's spirit is in the air.
The care workers whose wages you help us pay decorated fir trees, rooms and windows, communal areas for the coming holidays together with the residents. Just look at the pictures enclosed to feel their joy.
Christmas performance
Lidiya, our event manager in the care home in Elkhovka, acts as the director of the amateur theatre for the residents. This year she came up with the stage adaptation of the "Evenings on a Farm near Dikanka" by Nikolai Gogol.
She spent two nights without sleep trying her best to choose a part for everyone eager to participate. In the end, a way to involve all the people was found. Even Sergey, a stroke survivor who has considerable difficulty speaking, took part.
The dress rehearsal was an event in itself. The elderly actors had a lot of fun just looking at each other and making jokes, some even couldn't pronounce their lines.
But on the day of the actual performance the elderly residents took a professional attitude and played well, coming up with proper improvisations at the right time.
The audience was fascinated by the performance; they stamped their feet to the music during the dance of Soloha, burst out laughing after jokes and applauded loudly to every new character appearing on the stage. Both the actors and viewers were having a great time.
Even when the performance was over, the fun was not. Father Frost (Ded Moroz) and his granddaughter, the Snow maiden (Snegurochka) came to visit the care home residents and wish the a happy new year.
Key figures of 2018
Last year, we increased the number of professionally trained care specialists by a quarter. 9 care homes joined our project, 5 institutions developed outreach services (home care visits). 225 carers, occupational therapists, physical therapists and event managers work in 34 residential facilities across 13 regions, which means you help us support more than 7000 elderly people and people with disabilities.
Thank you for your kindness and for inspiring us to keep going.