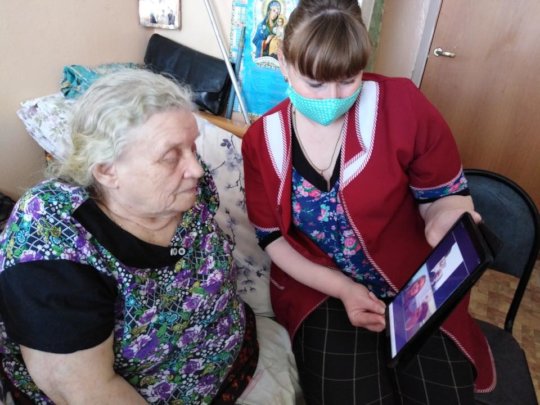 Dear friends,

Thank you for staying with us at this time of hardship. We can feel your support regardless of the physical distances. As you know, because of the novel coronavirus pandemic care homes all over the world have gone on lockdown and stopped allowing visitors — Russia is no exception. But as you might guess, life has not stopped, both outside and inside care homes. And now the shortage of care staff, both competent and compassionate, to meet physical and emotional needs of the residents, is more acute than ever. With this report we would like to show you how we are helping care homes to cope during this period of uneasiness, which actually means you are helping them.
People who care
According to the project's main purpose, we keep hiring additional care staff. What is different now, during the pandemic these people, whose work we pay with your donations, are literally saving lives.
Many care workers are themselves in at-risk groups or take care of elderly relatives, consequently, they had to self-isolate in their homes. Others have children and, kindergartens and schools being closed, cannot present to work at all or stick to their former rotas. With the majority of state-funded care homes not having surge capacity, staff shortages, evident even before the pandemic, have become drastic and particularly dangerous. In such conditions, care workers hired through this project are not additional any more but essential and provide not the quality of life but life itself.
This holds most true about those who have agreed to work in the care homes where outbreaks of COVID-19 were registered: in Vyazma, Klin and some other sites. As a charity, we do not only pay their heroic efforts but also provide training, supervision and psychological support.
Due to quarantine precautions, care staff now work in two-week shifts and live inside the institution or in specially provided accommodation. In Vyazma care home, which was the first institution with an outbreak, the director managed to bring up staff for two full shifts for the time of lockdown. Seven of the care workers were hired through our project. On April, 16, one of them went to hospital with severely ill residents to provide personal care and support so that stress and unfamiliar environment did not worsen people's condition even more.
Protection
As well as actually paying the wages of care staff, we use your donations to buy personal protection equipment (PPE) and disinfectants to protect them and the residents they care for. PPE includes surgical masks, respirators, surgical gloves, goggles, overalls etc. For those who work with COVID-positive residents PPE is the only way to avoid infection and to carry on with their caring duty.
Disinfection is also important as it helps protect the residents and staff in 'clean' zones — those lucky enough to not have caught the virus. Care homes where outbreaks occurred without them having enough time or resources to stockpile disinfectants and necessary equipment rely on our support with supplies.
Video Calls
As we have stated before many times, people do not have only physical needs and for people who live in care homes loneliness and isolation are as dangerous as pressure sores or infections. With personal visits banned for epidemiological reasons, we have launched a campaign "We Stay Near" and connect dozens of volunteers with care homes via video calls so that elderly people do not feel abandoned and deprived of attention.
We provide training for video-volunteers who cater for emotional needs of both residents and staff of care homes. We provide care homes with the necessary equipment for regular video calls - routers, laptops, tabs, software. By April, 4, more than 30 institutions were supplied with stable Internet connection and gadgets. From within care homes, staff have taken responsibility for organising video conferences. It gives them and people they care for, hope, helps build up their emotional resilience, fight loneliness and anxiety.
Life is going on
The challenges and fears of the pandemic do not stop people from celebrating what is important to them. To many residents of care homes Victory day is an important celebration and no lockdown could cancel it completely for them. Elderly people from care institutions in Stavropolskiy kray, Novgorodskaya, Tulskaya regions and many others adorned the windows of their rooms with the symbols of the holiday. The decorations were hand-made (because art therapy never stopped for those not affected by the virus) by residents in their rooms sticking to all quarantine precautions.
Some of care home residents witnessed the war, some did not but the feelings they share about the Victory day bring them closer. This year the concert dedicated to the holiday took place online. Well-known artists recorded videos singing the most famous war-time songs. They were presented by actors, loved volunteers and members of the charity's board Liza Arzamasova and Rodion Gazmanov. The link to the concert was sent to hundreds of care homes all over the country and by evening of May, 9, was opened 1500 times. Where possible, people watched it together in halls; if not, members of staff brought laptops and tabs right into residents' rooms.
Comforting news from two affected care homes added to the uplifting spirit if the holiday. By May, 9, the majority of hospitalised residents in Seltso, Bryanskaya region, care home are returning from hospital. In Novoslobodsk of Kaluzhskaya region, out of 70 COVID-positive residents 20 are still in hospital but all survived. In Vyazma, the first hard-hit care home is seeing the outbreak to slowly die down.
Thank you for staying with us at a moment like this. We appreciate it. Please, take care of yourselves, stay safe and patient. Together we will get over it! And may there always be someone by your side to support you like you support us.