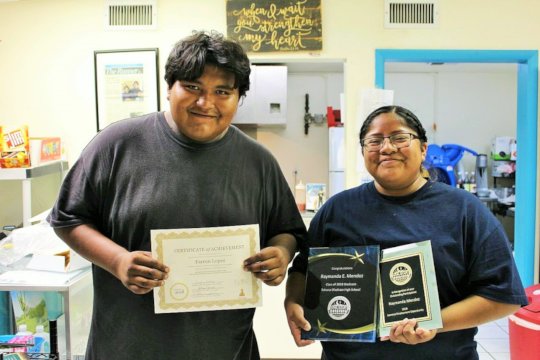 Dear Friends,
The 2018/2019 school year is underway, and NAAF's Academic After-School Program (ASP) has just begun. This year the program will once again be held at the Al Jek Recreation center in Menager's Dam, GuVo District, Tohono O'odham Nation.
NAAF has been running the ASP in GuVo for eight consecutive years. In that time, no student enrolled in our programs has dropped out of school, or out of the program!
Congratulations 2018 Interns on a Job Well Done!
Session 1 of NAAF's internship program has concluded. During the past 6 months, interns have received job training with both NAAF and The Store. On the last day of the program, GuVo community members gathered to celebrate their achievements. Interns gave speeches about all they had learned and accomplished throughout their internship.
"[NAAF] taught me to never stop learning because life never stops teaching. I have learned a lot like strong communication skills, basic computer skills, how data entry works and how to keep reports…before I felt like there was nothing out here for me, but when I started to help out it felt good being a part of a team rather than alone… No matter how tough life gets, never give up!" – NAAF Intern
NAAF's 2018 Summer Adventure Program was a blast!
NAAF has officially wrapped up its 7th annual Summer Adventure Program (SAP). The SAP operates in June and July, and gives the kids in GuVo a safe, fun place to stay out of the heat (temperatures soar over 100 degrees regularly), stay scholastically engaged, and have some great adventures! This year the kids participated in the Truck of Love, visited educational sites like The Children's Museum in Tucson, and also got to have some fun at Get Air and Amazing Jakes. A meal and a snack are served each day during the program. This year, NAAF served 400 snacks and 382 meals to the 30 students enrolled in the program.
The goal of the GuVo Summer Adventure Program is to promote education, build our youths' self-esteem, spark curiosity, and shape strong, healthy, contributing members of society. The program focuses on reading, math, technology, and health education. Also incorporated are the teaching and development of traditional Tohono O'odham art, handcrafts, language, gardening, and cultural history.
Graduate Solutions Program Expansion
Through a partnership with Grad Solutions, a private online school that allows students to complete their high school education and graduate with a diploma, NAAF offers classes online. Over the last 3 years, NAAF's Graduate Solutions program has operated at capacity with 11 enrolled students as well as a waiting list. Eager to meet the demand for adult education opportunities, NAAF has worked diligently to secure funding for additional laptops and E-learning materials. Thanks to our donors and partnerships with Tohono O'odham Utility Authority and GuVo District, NAAF is happy to report that the program's capacity will more than double in 2019!
Former NAAF Students Head to College
Two of NAAF's former after-school students have officially begun their freshman year at Tohono O'odham Community College. Both girls remain actively involved with NAAF and the GuVo community. One will pursue a degree in Liberal Arts while the other intends to obtain a degree in Early Childhood Education. We are incredibly proud of their achievements and look forward to their continued success and impact on the Tohono O'odham Nation!
Thank you so much for all you do to help us keep these vital programs up and running! Your kind donations are what make it possible!