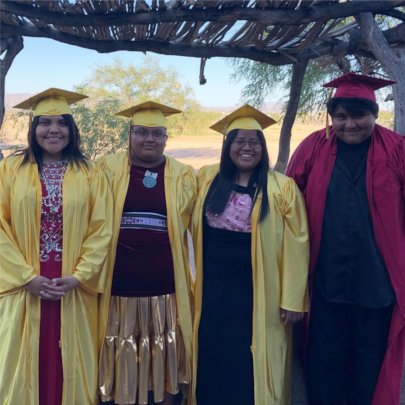 Congratulations to NAAF's 2018 High School Graduates and 8th Grade Promotees!
Click on the link below to see a short video featuring the two graduating classes, their families, and the festivities.
https://www.youtube.com/watch?v=NyfZI13qhoI
It's Been Another Great Year for the GuVo After School Program!
The GuVo After School Program has wrapped up for the school year and it's been a lot of fun!
Operational for 7 years!
Currently serving 45 children in 2 locations
5,220 meals and snacks served
50 community volunteers engaged
Activities include homework help, fitness, cultural preservation, crafts, and more
Field trips to Biosphere 2, University of Arizona, Old Tucson Studios, Christmas Lights Extravaganza, and traditional Tohono O'odham games and sports events
Thank you to our donors, staff, volunteers, and communities who helped to make the program a success!
NAAF and The Store are excited to announce our 2018 Joint Internship Program!
The goal of this internship is twofold:
1) To equip interns with a diverse background of experience and develop specific skill sets in order to strengthen his or her candidacy for future employment.
2) To provide training related to resume building, application, and interview processes.
During our 6 month program, our volunteer interns will learn the responsibilities of operating both NAAF and The Store. Afterward, they will have an opportunity to apply for a six month paid position (part-time) at either NAAF or The Store. We look forward to working alongside these remarkable and motivated individuals!
The After-School Program has wrapped up for the year, but the fun doesn't stop in the summer! Stay tuned for an update on our Sumer Adventure Program, which began this week. Thank you so much for your support!