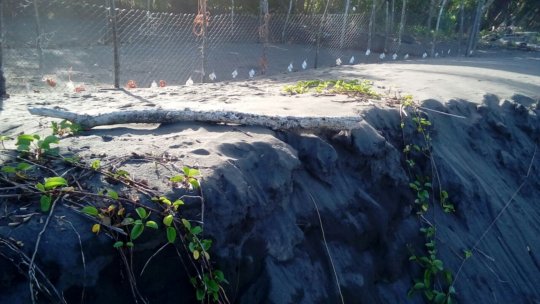 Its a well known fact - conservation is a constant uphill struggle: education and social awareness issues; lack of stakeholders; remote locations; limited funding; the list is endless.
For those of us invested in environmental conservation, this is part of the attraction.
However , the end of 2016 threw us a curveball - and ontop of all the foreseen and expected problems, we had Hurricane Otto crashing into our coastline.
Although the staff were evacuated by the coastguards unharmed, and the station itself suffered minmal structural damage, the biggest loss has been to the natural nesting habitat of the sea turtles.
what used to be over 75 metres width of sand, has now neen reduced to just a couple of meters. The erosion continues , causing "cliffs" to be formed on the beach.
Average leatherback turtles can be between 1m50cm and 1m80cm long. These huge, magnificent animals, struggle when they leave the comfort of the ocean, due to their size and weight.
Making their way slowly up the beach to look for the perfect spot to start digging her nest, she is going to be faced with a wall of sand. She will have no choice, but to turn around, and look for a more appropriate place.
The more appropriate places are becoming more scarce every year.
Our staff are now on site to prepare for this challenging season.
We need to find an area of the beach wide enough, and sheltered enough, to start the construction of the hatchery where the fragile eggs will be incubated.
We need to make sure that the hatchery is safe from climatic events and further erosion. We also need a Plan B. If the erosion continues - where wil we relocate the eggs?
One innovative approach that was implemented in 2015 in extreme situations, was to use styrofoam boxes in order to maintain the optimum temperature of the nests for incubation. This provided an acceptable rate of eclosion for the eggs.
However , we still need help.
The purchase of enough boxes to be able to relocate all the nests is vital - and unforeseen.
If you can continue to help our project, we can further develop tecniques that will enable us to continue protecting the turtles that nest on Pacuare beach, and to prepare and adapt to the changing environment. Each year we are seeing the impacts, and we need to be ready!
Thank you all for your support and help over the last few years.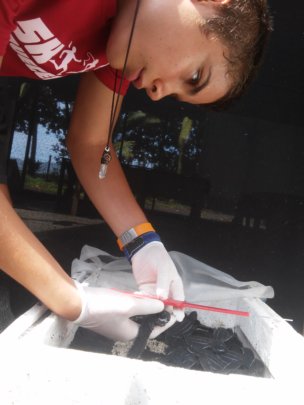 Links: