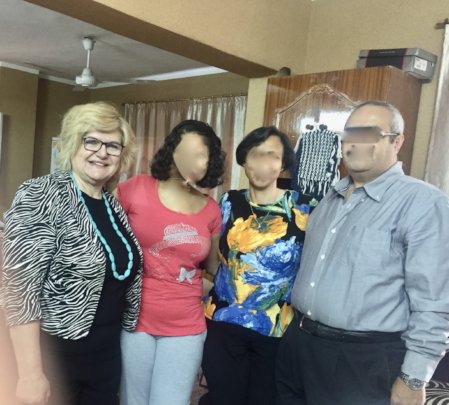 This is an urgent message.

There are very few safe houses in Egypt. A's safe house is closing because of COVID19. (No one had COVID19 in the safe house, mind you!)
A. , the owner of the safe house, cannot feed the girls anymore.
Please send an urgent gift today to help provide basic needs like food, medical care, and counseling for the 20 girls at the safe house. All girls have been saved from prostitution, human trafficking, and sexual abuse.
Safe houses are illegal in Egypt because they are considered by the government as brothels.
Magda is a 14-year-old girl who is raped daily by her four older brothers. She found solace in Abeer's safe house.
Magda is just one of 20 girls that Abeer saved from human trafficking, abuse, and prostitution.
Your gift today will help provide basic needs like food and shelter for a girl like Magda.
A. and her husband, M run a daycare for 200 kids. She uses the proceeds from the daycare to fund the safe house.
When COVID hit, they had to shut the daycare indefinitely.
The safe house suffered terribly. She had to send the girls away because she could not feed them anymore.
A. provides medical services, counseling, spiritual formation, and teaches them a trade at zero cost to the girls.
Each girl costs $300 a month.
She needs $6000 per month to feed, counsel, and provide medical assistance to the 20 girls.
A would never ask on her own. But God prompted me to call her on Sunday. When I asked how she was, she lost it. She told me, "Sending the girls away, knowing that they will be raped every day is torture to me. But, I was watching the girls starve."
"This is not right." I thought to myself.
I am personally supporting A's's safe house since 2009.
I have seen girls who have finished their recovery program and have gone off to work and support themselves.
I have seen the girls doing their daily chores, thankful to have the closest thing to a family.

Not Guilty's budget is tight, and we do not have the extra to figure out how to help survivors at Abeer's safe house. And every day they stay away from the safe house counts.
Send an emergency gift right now.