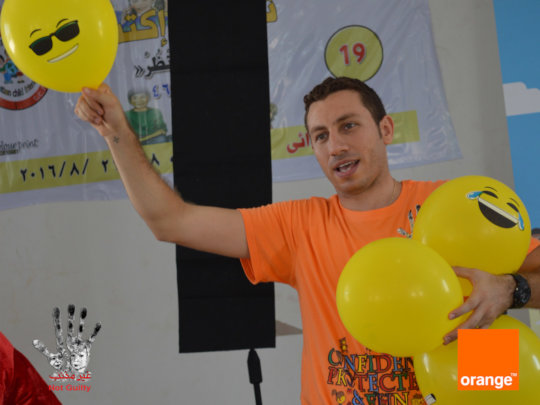 Seif is 10 years old. He attends Sunday School for kids at his church every Friday (In Egypt kids Sunday school is on Friday since this is the weekly holiday). His Sunday school teacher noticed that Seif has become very withdrawn and sad.
When his Sunday school teacher tried to pat him on his head, he shrinked in fear.
She tried to find out what was wrong with him, but he was totally secretive.
The teacher, who had attended a Not Guilty training, started probing about Seif's family asking if there was anything that has changed in his family situation.
She found out that his family had sent Seif during his summer vacation to a family friend who has a beach house. They could not afford a vacation so they thought it would be nice to send him to have a good time.
This family friend was a man of 50 years old who lived alone. The first few days, Seif felt thrilled. He was having a great time at the beach, eating ice cream, watching TV till late at night, playing play station.
But after two weeks, he called his mum and told her he wanted to return home.
He returned home, sad and withdrawn. The fun loving Seif who left home did not return: instead there was this 10 year old sad, angry young boy.
His mother could not guess why he was so somber.
But the Sunday School teacher had her doubts: she could see all the signs of Seif having been sexually abused.
She applied what she learned, and within a few weeks Seif told her about what happened: after the family friend being very nice giving him the attention he never had before, he started showing Seif pornography. Seif did not say anything; he closed his eyes becasue he felt it uncomfortable. But one night the friend invited him to sleep with him in bed and he touched him.
Next day, Seif called his mother to pick him up. The friend called Sief ungrateful, he called him a coward. Seif left filled with guilt and shame unable to tell anyone of what happened to him. He felt he became an old man in two weeks.
The Sunday school teacher thanked Seif for trusting her. She told him she believed him and brought him to the Not Guilty office for counceling.
Seif told his parents of what happened, but they decided not to report the incident for fear of the stigma that would follow their son. They faced the friend and cut all connections with him.
Now, Seif smiles once in a while. He has to go through the journey of recovery.
Multiplying impact is the heartbeat and story of Not Guilty.
To date we have trained over 9000 kids, 4000 parents, 3000 teachers and 230 factory workers.
We are seeing second and third generation multiplications of trainers in many parts of Egypt.
In 2018 our goal is to reach at least 1000 more kids, 500 parents and 500 teachers as well as 600 factory workers.
In 2017 in addition to anti sexual abuse training, we started anti bullying and safe internet training since they are both connected in one way or another with sexual abuse.
Over 25,000 have downloaded our anti sexual abuse mobile app.
We have also completed writing four key resources: anti bullying for kids, anti bullying for parents and teachers, safe internet for kids, safe internet for parents and caregivers.
None of these accomplishments would be possible without our supporters and 10 strategic partners that help us multiply our message.